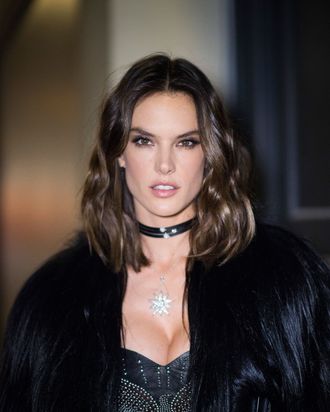 Alessandra Ambrosio didn't always have fun.
Photo: Timur Emek/Getty Images
Sure, there's a multi-million-dollar contract and the potential to become a household name, but being a Victoria's Secret model doesn't come easy. Erin Heatherton talked about her struggles with food, and model Alessandra Ambrosio told Net-A-Porter's the Edit about the miserable time she had getting ready for the runway three weeks after giving birth: "I only had three months to lose all the weight [before doing the 2008 Victoria's Secret show] and I was on this 1200-calorie-a-day meal-delivery service that I hated. I couldn't do that again." 
Then there's the fear of being fired when you emotionally binge-eat. "There were times when I would eat a whole packet of cookies. But then I taught myself not to do that, basically by reminding myself how horrible it felt the last time. Oh, and of course I would lose my job, so that was another incentive," Ambrosio said.
Nowadays, Ambrosio has a much more balanced approach to wellness, discovering the joys of Pilates, barre, and sharing cupcakes with her daughter, but it's something to think about the next time you vow to train like an Angel.