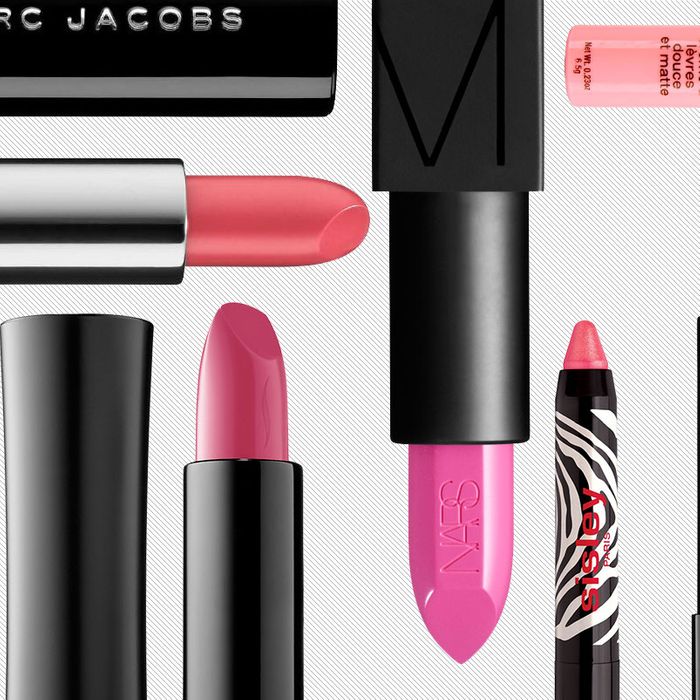 This week at the Cut, we're highlighting one of the season's biggest trends: pink. Check back every day this week for a story on our new favorite color.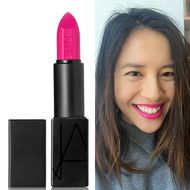 Nars Audacious Lipstick in Michiyo, $32 
If you have medium-tone skin like mine, you can wear bright lip colors — or so I've been told by Nick Barose, Lupita Nyong'o's makeup artist. Something about the shade makes bright colors look vivid and alive, rather than jarring. And when it comes to pink lipstick, the brighter the better. Michiyo is a pretty hot-pink that's less blue-based than Nars's other cult color, Schiap. The glide of this lipstick was so smooth that I only needed one application.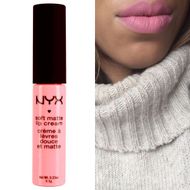 Nyx Soft Matte Lip Cream in Istanbul, $5
It's my unwavering opinion that Nyx's Soft Matte Creams are some of the best lipsticks on the planet. They're densely pigmented, they smell like Nilla Wafers, and they're dirt cheap. "Istanbul" is a soft pink that's easy to wear, both in terms of texture (matte but not drying) and shade (pink but not necessarily the main attraction on your face).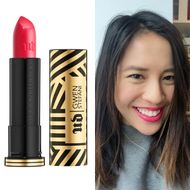 Gwen Stefani Lipstick by Urban Decay in Phone Call, $18
Phone Call, a lipstick from Gwen Stefani's line with Urban Decay, is exactly how I imagine her Facetime sessions with Blake Shelton to be: sweet but with a flirty zing. It's a bright, sheer pink that's been muted a little with a gloss, so the color isn't too overpowering. It's a slightly softer and sweeter side of Gwen, post-Gavin — a good place to start if you're nervous about brights.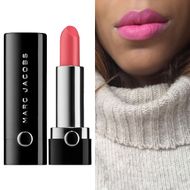 Marc Jacobs Le Marc Lip Crème in Jolly Molly, $30 
I love the carefree brightness in Jolly Molly. It's fun, like the name implies. Creamy and long-lasting, it's the exclamation point on a long day.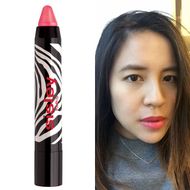 Sisley Paris Phyto-Lip Twist in Pink Sugar, $50
This fancy zebra-print lip pencil is a grown-up version of cherry Chapstick. The chubby crayon format makes it super easy to use, and it's formulated to have a lot of glide so that application is smooth. The color is an everyday pink that doesn't look cupcake-sweet, and it's so moisturizing that you won't feel the need to lick your lips.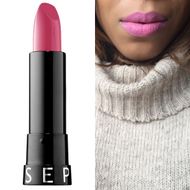 Sephora Rouge Cream Lipstick in Irresistible Attraction, $12.50
On my lips, Sephora's Irresistible Attraction takes on a slightly neon, fuchsia hue. It was a surprise, considering it appears darker in the tube, but welcome nonetheless. The creamy lipstick glides on easily and leaves a slight amount of shine on top.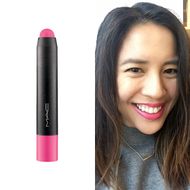 M.A.C Patentpolish Lip Pen in Fearless, $20
Don't be afraid of these lip pens from M.A.C. Fearless is much softer than it looks in the tube. The shine makes the color less concentrated than it would be if it were a matte. The color reminded me of the cherry Chapsticks I had growing up, and the glossiness kept my lips moisturized without cracking.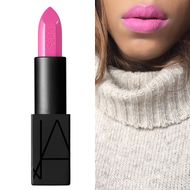 Nars Audacious Lipstick in Claudia, $32 
Nars's Audacious lipsticks are known for their smooth, luxurious feel, and the shade "Claudia" is no exception. Slightly lighter than a bold magenta, it's an electric-pink. I was afraid the blue undertones would wash out my warm complexion, but my fears were happily unwarranted.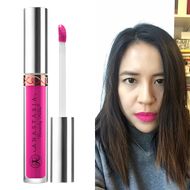 Anastasia Beverly Hills Liquid Lipstick in Rio, $20
The color of Anastasia's Rio is a dead ringer for the hot-pink highlighter I used when I was a student. It gave me flashbacks to the torturous nights I spent in high school trying to brain dump chemistry. I wouldn't venture to say the color is wearable on everyone but it does give a visual "POW," and I felt like everyone was staring at me, some appreciatively, when I wore it on the subway ride home. The color is so saturated and long-lasting that even my double-cleanse couldn't take it off; I needed extra makeup remover.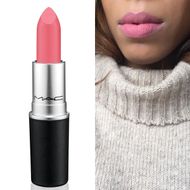 M.A.C Lipstick in Please Me, $17 
Here's a pink for the pink-averse. M.A.C's "Please Me" is a brighter, pinkier nod to my natural lip color. It's simultaneously matte and creamy, and lasts the better part of the day. No lip liner is required, and I promise your lips won't feel even a hint of dryness.