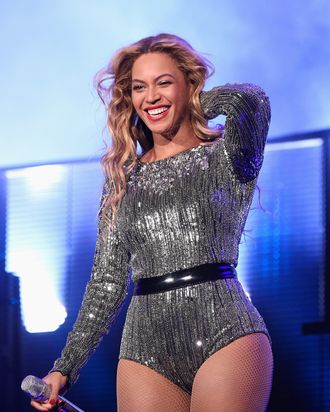 Beyoncé.
Photo: Kevin Mazur/Getty Images
Beyoncé so rarely gives interviews these days — she wouldn't even talk to Vogue when the magazine put her on the cover of last year's September issue — but she did grant an interview to Elle this month. The inimitable Elaine Lui of Lainey Gossip points out that, like all things Beyoncé, the timing and circumstances of this interview were no accident.
The interviewer, it turns out, is one Tamar Gottesman, the daughter of billionaire hedge-fund manager Noam Gottesman. "Beyoncé and Jay Z are tight with him," Lainey explains. "They were at his wedding last year." 
"Page Six" notes that Tamar has probably spent time with Beyoncé before — a Daily Mail story from 2011 claims the performer once gave Tamar and her sister an "impromptu dance lesson" at the Glastonbury Music Festival.

This is Tamar's biggest assignment for Elle to date. Her last piece for the magazine was "20 Unexpected Engagement Rings Under $3,000," published on October 27, 2014. Elle is touting the Beyoncé interview, which should be released in full online today, as a "rare, in-depth" conversation in which Beyoncé "speaks candidly." We'll see!