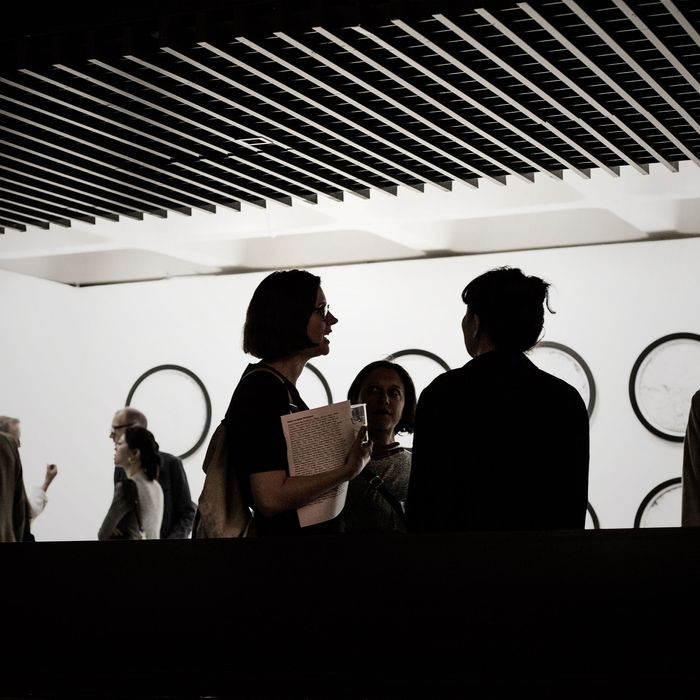 New York's "Sex Diaries" series asks anonymous city dwellers to record a week in their sex lives — with comic, tragic, often sexy, and always revealing results. This week, a 22-year-old gallerist, bisexual, Harlem.
DAY ONE

12 a.m. In bed alone, on my third glass of wine. I work at an art gallery, and sometimes the days leading up to an exhibition opening almost break me. Today was more than enough to make me forgo the gym in favor of the trifecta: Mad Men (I know, I'm late), red wine, and TJ's dark-chocolate-salted almonds.
12:10 a.m. Wes just called and we caught up on our days — he is 23 and in politics — and lazily talked about what we'd do to each other if we were in the same bed. We were a couple for almost two years pre-trans, but he never looked like a woman. Quite androgynous. He didn't come out to me until about four months ago, after he had a series of revelations about his gender. He wasn't out as trans to himself or anyone else. It's all much hotter now – better orgasms, nice toys, and we really know each other's bodies. I balance my glass of wine on my belly button and talk to him while he touches himself.
1:15 a.m. I come back from the bathroom and spot my neighbor across the alley, a few floors down. He's sorting his laundry, totally naked. It makes me miss Wes. I feel a little voyeuristic, but also he's the one without curtains on his bedroom windows. An image pops into my head of myself holding up a T-Swift-style sign at my bedroom window. Lol. Good night.
9:07 a.m. I've slept through my alarm for the first time in so long. Fuck. Somehow manage to shower, find my black bra, put on stockings-boots-dress and run some leave-in conditioner through my hair. It'll do. I pack my perfume and makeup with my lunch and run across Harlem to the train.
11:18 a.m. I open Wes's morning Snapchats: one in bed, fuzzy and cute. Another right after he did his hair. I love these little moments in my day when he makes me feel all warm inside just from a selfie. Especially when I'm stressed – and everything that could go wrong IS going wrong, and all I want to do is rub one out so I can calm down – it's just nice to see his face.
6:35 p.m. Opening is in full swing. It always looks effortless after all the work is done. Two glasses of wine in, and I'm already feeling loose, horny, but more stressed than before. I think I'm just all pent up.
9:15 p.m. Wes and I are in the ladies' room of my favorite midtown restaurant, and he has me pinned up against the wall. He reaches up my dress and kisses me hard. That feeling of fingers grazing your V over your panties … there's something so high-school thrilling about it. I love it, but we can't disappear from our friends for too long. He thinks I'm uptight, and really I am, but I don't like thinking about people wondering where we are. Before we leave the bathroom he smiles and says, "I shouldn't even be in here."
10:00 p.m. I wish his friends knew he was trans. Maybe there's something selfish about this, but it's hard that they still don't know. One of our best friends uses a lot of gendered phrases and shit, which I didn't fully notice before, but now it irks me. I think the day is coming soon, though. Wes was just approved for Androgel on Monday.
11:50 p.m. Passing out in bed alone. Missed the crosstown bus by one literal second, so I paid for a $9 cab. Too tired even for porn.
DAY TWO

8:56 a.m. Overslept again. Christ. Brush teeth, coffee, go. Guess yesterday's makeup will do.
9:30 a.m. The Lexington line is hell on Earth. Hell under Earth. And the 4 train is always muggy in the morning. Some dude is asleep, sprawled across a whole bench. My feet still hurt from last night. But hey, man. It's your world, we're just livin' in it.
3:55 p.m. I don't know why anyone in this office even comes in on the day after the opening. Slug city. I'm just reading about Androgel and also researching activity trackers. $100-plus for what benefits? I'm ultimately trying to lose the 50 pounds I've put on slowly since high school, but I just don't know if this shit is worth the money.
4:00 p.m. Wes is coming over tonight. I can't stop fantasizing. I think I'll bring my little silicone butt plug back into the mix. Also, I really wish there were another name for it than "butt plug." Really just any other name than that one.
6:45 p.m. Decided last minute to brave the Trader Joe's after-work shitstorm. Wes is meeting me there to help me carry everything home. This is chivalry in New York City.
8:10 p.m. Wes and I are on the bus to my place, looping through the news of the day on our phones, showing each other photos of the French bulldogs we both follow on Instagram, etc. We decide it's too late for the gym. The struggle home and up to my 5th-floor walk-up counts as our workout, right?
9:45 p.m. I cook a late (ahem, "European") dinner; we talk about what's been plaguing us and what's been making us happy.
10:09 p.m. He comes back from the bathroom after putting on his cock. It's the top of the line pack-and-play from the New York Toy Collective. On weekends he wears it all day, but he's not wearing it to work yet. He rips off my pants, grabs my shoulders, and fucks me. It feels amazing. It really pays off to wait a couple days and not masturbate.
10:15 p.m.  God, I love his cock. It's perfect, not too firm like many strap-ons can be, but not too much give either. It feels like a penis made of cells, not silicone. Also, he will never come too quickly. We don't need condoms because we're both clean, sperm is a non-issue, and we're the only two using this cock. Sometimes we use them for the fun of it, and we've been using them when we occasionally experiment with anal sex. Best of every world?
10:35 p.m. He pulls out and goes down on me for a while. I pull his head up and flip over to put my toy in my ass. He climbs off the bed to stand behind me and fuck me while I rub my clit. Unreal. I come harder than I have in a long time. We've never done this specific combination before.
10:40 p.m. We lie there and talk for a little while. I'm in a post-orgasm haze. He's always made our sex all about my orgasm, even when I try to make it about him. I'm bisexual, and I dated straight cis boys for years. One of their huge pitfalls is their tendency to get overwhelmed by their penis and just jackhammer you until they come.
10:42 p.m. His head is between my legs again.
10:55 p.m. I have one of those rich, deep, full-body orgasms. I don't know how he does it, but honestly, there must be a genius in his tongue. I say out loud, "Now I think I know what they were talking about in The Vagina Monologues." He cracks up, and I climb on top of him to make out.
11:15 p.m. I give him a blow job for a while with my palm pressed firmly against his clit, making slow circles. It drives him wild. When he's really worked up, I pull off his briefs with his cock and go down on him.
11:45 p.m. We pass out, naked and snuggling. I wake up briefly at some point to him pulling the blankets over us. He kisses my face and I fall back asleep.
DAY THREE

8:05 a.m. Wes's alarm wakes me up. I let out a long, melodramatic groan. He laughs and curls up behind me. He's the perfect big spoon.
8:45 a.m. I stay in bed too long and he leaves for work without me.
10:25 a.m. Now that we're both working full-time, Wes and I email during the week instead of texting each other. It's embarrassing to be caught on your phone multiple times a day, so we have a new email chain every week. We send each other links to articles, events, clothes, whatever we're looking at that day while we "work."
3:24 p.m. I just finished the press release for the next show. It's a writing process that always ends up stalling. The last line is the hardest part.
9:50 p.m. Wes is sending me goofy Snapchats and I'm wrestling with my goddamn Wi-Fi connection. Consider this my official unendorsement of Time Warner. Bastards.
10:45 p.m. I pass out while texting Wes and watching Mad Men.
DAY FOUR

9:07 a.m. It's raining, and I left my umbrella at work yesterday. I indulge in a cab to take me from my house to the subway (not too expensive, but still, who do I think I am?).
10:45 a.m. Wes is at the gym, and I'm wasting away at work on a Saturday. I've been so lax about the gym lately, but I'm trying not to be too hard on myself.
1:00 p.m. Window-shopping online for more workout gear. Sports-bra prices are EXTORTIONATE. I wear a 34G, and I've had DD+ boobs since high school, even when I weighed 130 pounds.
3:45 p.m. I've been able to find great lingerie, though. My favorite is a sheer black lacy bra from Soma that frames my nipples in little leaves and flowers. At least my nipples are small, even though my breasts are like two extra limbs.
7:15 p.m. We're getting drinks before dinner. I order a dirty vodka martini, but the olive juice is lackluster. At any rate, I get nice and tipsy before we head across the street for sushi.
9:45 p.m. We're off to meet one of our best friends on the LES, but before we get on the subway it's time for my weekly cigarette. Mmmmmmff.
10:45 p.m. We're at one of my favorite little wine bars. Our friend is joking about how this guy who is "straight" really "has to be gay" because of his interests and personality. I say, "Maybe he could be bisexual" and they both laugh. A little fight ensues. It really pisses me off when my identity as a bisexual is casually erased "as a joke." Our friend doesn't identify as anything (I've only heard him describe himself as gay once) and he's honestly pretty clueless about queer politics outside of the gay-bisexual cis male community. He apologizes, I apologize for snapping at him, and we share another cigarette before we go home.
DAY FIVE

12:30 a.m. Wes climbs on top of me, I wrap my legs around him, and we fuck for a few minutes. It's so good. He kisses his way along my body and goes down on me. I'm drunk, and when I come, my body curls upward from the bed. It's so good that we both start laughing as I lay there panting.
11:12 a.m. It's the weekend, hallelujah. We start with some sleepy morning sex. Then he flips me over and fucks me from behind and I come hard. I recover, and then go down on him until he's moaning. Mmm.
12:37 p.m. We're heading to brunch, and I'm not properly dressed for the weather. My mood sours. I'm hungry and cold. Brunch is nice, but I'm really in an anxious mood. I just try to stay quiet and enjoy what I can.
5:30 p.m. We go see the new show at the Met Breuer, which was great on the first floor but fell apart on the second. I agree with the critics on this one.
9:00 p.m. Wes and I cook a late dinner and watch an old movie.
11:30 p.m. Pass out early.
DAY SIX

9:15 a.m. I wake up to Wes kissing my face, and he seems upset. He says he had a nightmare about his mother discovering he's trans before he was ready to tell her. I feel so bad, but I can't keep my eyes open. I hold his hand, and tell him he looks great before he kisses me good-bye.
11:26 a.m. It's my day off, all to myself. I love Mondays.
1:32 p.m. Struggle down five flights of stairs with the past three months' worth of recycling. Why do I do this to myself? Then jog to the gym in the rain. I love being at the gym and working out … it's the getting-there-and-leaving-the-apartment part that is almost insurmountable. My mom used to say to me, literally, all the time, "Adulthood is 70 percent just showing up that day." I used to think this was bullshit when I was 17. I've lost 15 pounds since I started two months ago, but it's hard to sustain that kind of momentum.
3:30 p.m. Ugh, I feel amazing. My whole body is warm and stretched out and a little in pain. I hit up the massage chair before I leave. As if a massage chair isn't motivation enough to get to the gym? I'm so lazy.
5:15 p.m. I pick up a chicken to roast from Aldi ($6, hell, yeah), and invite Wes to come over for dinner after work. I think I'll make a fresh-garlic-herb rub and roast the chicken along with carrots and Brussels sprouts.
6:32 p.m. Wes just got here, and I'm in my little black robe prepping the chicken. His eyes practically pop out of his head like a Looney Tunes character.
8:30 p.m. We sit and eat, talking and then watching the latest Broad City. They're geniuses. Also, this show makes me really grateful for my cute little one-bedroom that I can (just barely) afford to live in alone.
9:45 p.m. I suggest taking a long hot shower. We scrub each other's backs with my favorite coffee-honey body scrub. Ahhhhhhh.
10:30 p.m. We fall asleep curled around each other, feeling so clean and warm and snuggly.
DAY SEVEN

9:23 a.m. I can already tell this is going to be a total nightmare commute. There's a "sick customer at 86th Street" and I hate whoever that person is. Totally selfishly, I hate them. (Although sorry, sorry, I hope you're okay.) The 5 train crawls down the local track. At the stop before mine, the conductor announces that they're not stopping at my station.
9:55 a.m. I'm in a cab. I'm sweating bullets under my puffer coat and I am ANNOYED! Do you hear me, MTA?! I barely make it to work on time.
1:51 p.m. I've realized lately that I'm not as sexually preoccupied throughout the day as my partner. But when I'm having sex, I'm an animal. Can't get enough. I wonder if that contrast between us will become even starker when he starts hormone therapy. The increase in sex drive is a pretty standard effect, but I wonder how intense it'll be for him.
2:07 p.m. I've noticed when I say "my boyfriend" to strangers, it's clear they think I'm straight. I suppose this happens to bisexual people often, whether they are partnered with a trans person or not. At some point soon, the little double-take will disappear — the one people do when they're expecting a cis man to show up on my arm after the my-boyfriend-is-joining-me scenario. We'll start looking like a straight couple. Which is odd, because we're both queer in some way. I don't know if I'm grateful for this or not.
9:05 p.m. I head to Wes's place after the class I'm a TA for. He gives me some awful news about one of my siblings … sometimes he's the first to know. My family dynamic is so fucked-up.
10:45 p.m. I'm a sad storm cloud, and he distracts me with breathing exercises and we play 20 questions. I stump him with Emily Dickinson; he stumps me with Jimmy Carter.
11:15 p.m. We kiss good night, and it turns into a makeout. He touches me, the way I touch myself, and I come with my face buried in his neck.
11:40 p.m. Wes is snoring next to me and occasionally mumbling in his sleep. It's adorable.
11:45 p.m. I'm trying to think of calming things. One of my favorite lines of poetry pops into my head, from e.e. cummings; nevertheless I feel that I cleverly am being altered, that I slightly am becoming something a little different, in fact, myself. We're both becoming ourselves. I can't wait to witness it all.
Want to submit a sex diary? Email sexdiaries@nymag.com and tell us a little about yourself.