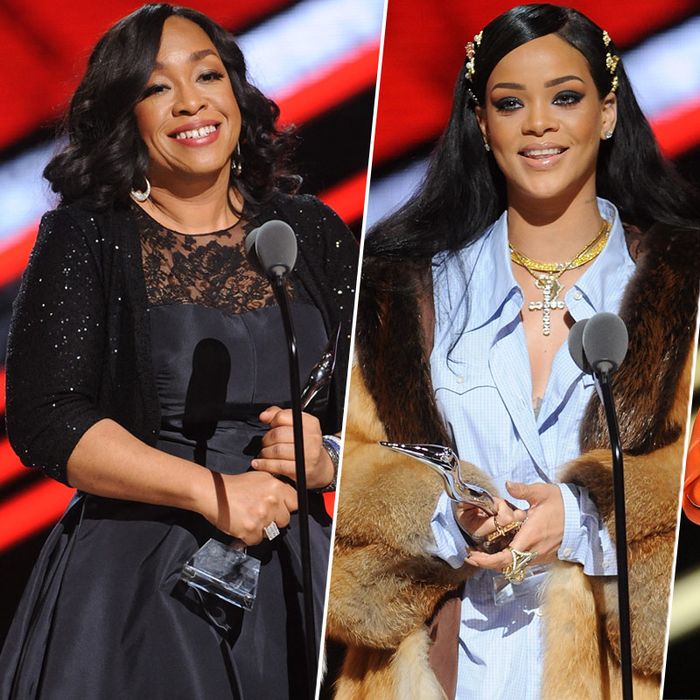 Shonda Rhimes, Rihanna, and Amandla Stenberg at Black Girls Rock
Photo: Getty Images for BET
Before #BlackGirlMagic, there was Black Girls Rock!, the annual celebration of black women that's entering into its tenth year. It's an awards show unlike most: Everyone who crosses the stage is a winner, and the prevailing sense is sisterhood, not competition. This year's show was hosted by Tracee Ellis Ross and honored Rihanna, Gladys Knight, and Shonda Rhimes, among other black women. When it aired Tuesday night on BET, Cut editors Lindsay Peoples and Ashley Weatherford were in the audience. Below, they talk about what the night meant to them.
Ashley Weatherford: Here's the thing: I'm far from a sap, but there were several moments during Black Girls Rock! when I wanted to cry. Sure, it's a night about celebrating black women, and of course it was fun, uplifting, inspiring — all of those things — but it was a cathartic experience, too.
Coming off the heels of #OscarsSoWhite, there was almost a sense of relief to have an entire night knowing that we would be honored, that our accomplishments would finally reap the rewards of a job well done. I was so proud to be there and proud to be black! The words of Maya Angelou, which were echoed by Amandla Stenberg, hovered over the whole night: "I can't believe my good fortune, and I'm just so glad to be a Black woman. A Black American woman. I would be so jealous if I were anything else."
Lindsay Peoples: I'm still dissecting all of my feelings from that night. I still can't even grasp how lucky we were to be in presence of all these amazing black women who have made a way for us. I mean, we were in the same room as Cicely Tyson! Like, what?! But although it was a historical night, it also felt like a reminder of how much needs to be done.
I know a lot of people still question why there needs to be a night for black girls, and believe (foolishly) that it encourages separation, but it's the exact opposite. I never felt more encouraged, and more a part of a community, than when I left there that night.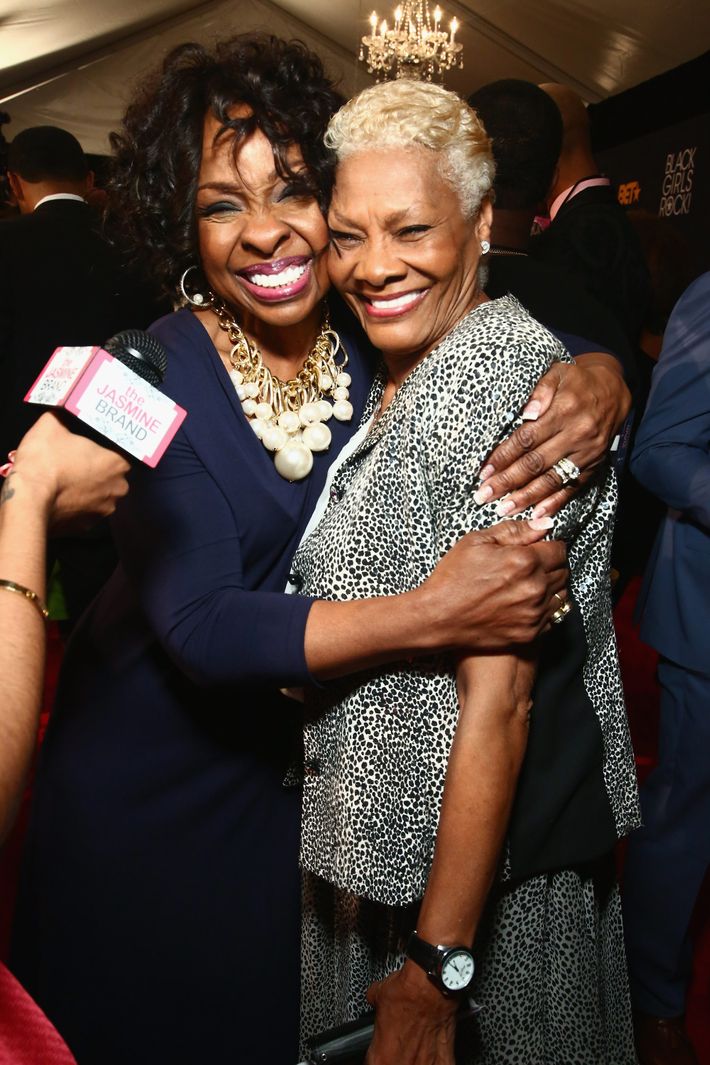 Ashley: So I mentioned that there were times when I wanted to cry. To be specific, there were three: when Amandla accepted her award for being Young, Gifted, and Black; when Shonda Rhimes explained the visceral importance of bringing one of her daughters along to witness the night; and when Rihanna actually did cry as she stepped onstage.
Lindsay: Right! Every acceptance speech made me want to cry, too. For me, the breakdown moment was listening to Beverly Bond talk about her ten years with Black Girls Rocks! When she talked about the importance of telling young girls their worth regardless of the constant appropriation in our society, it really hit home for me. I've talked about appropriation before, but it's something I constantly feel like isn't taken seriously enough — as if it's just black women being too sensitive.
Even in my own life, I'm tired of people praising our lips, butts, and hips, but only when they are attached to non-black bodies. It's systemically damaging to see people surgically acquire our body parts and features while we're told our skin, our race has no value.
Ashley: I sometimes think about how I would have approached life differently if I could tell my younger self the things I know now: that I am worthy, that I'm a valuable contributor, and that my differences are an asset instead of a handicap. I got emotional when Amandla received her award because in many ways I feel she mirrors the woman I would have become had I believed in myself more at a younger age. In her speech, she talked about how her blackness is a blessing, and I couldn't help but think, Gosh, I wish I had all my shit figured out like her at age 17.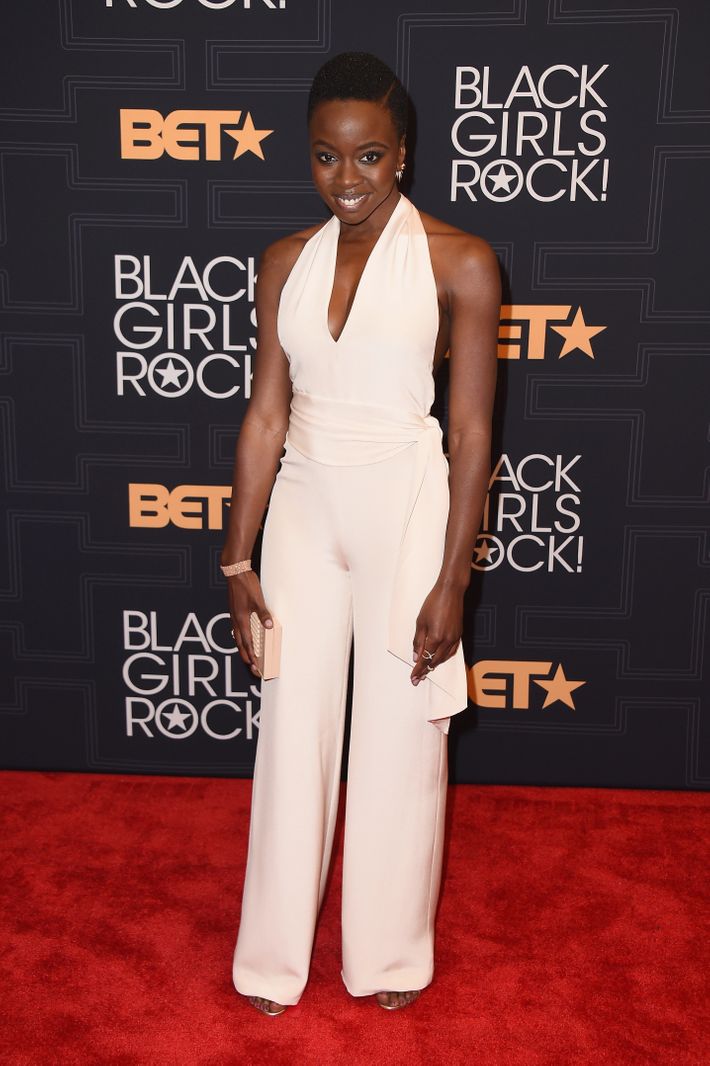 Lindsay: Amandla is just incredible, I can't even begin to describe the girl crush I have on her.
I mean, this quote: "I remember looking in the mirror when I was a little girl and looking at all that hair and being like, 'Why is that there?' I wanted it to go down so much. I remember suppressing it and brushing it and being so frustrated that I was so big and so bold. I felt like I took up too much space. But because of those women [who raised me], I have learned that … my blackness does not inhibit me from being beautiful and intelligent. In fact, it's the reason why I am beautiful and intelligent."
I was so happy she was able to share her personal sentiment in front of such a large audience. I think every black girl has an interesting hair story, and it's so significant to share those experiences.
I also loved that it was such a safe environment. Everyone spoke truly and honestly. There were no fake, Oscars-style speeches thanking the manager and fans. It felt like everyone — Rihanna, Shonda Rhimes, Gladys Knight, Danai Gurira, and Black Lives Matter founders Patrisse Cullors, Alicia Garza, and Opal Tometi — was speaking to a younger self, hoping to inspire the next generation.
Ashley: Rihanna's acceptance struck me the most emotionally because it was almost surreal to see her in that light: sweet, humbled, and gracious to receive an award. She isn't one to speak on race often, but one of the first things she mentioned in her speech was how great it was to be recognized as a black girl who does extraordinary things. Toward the end she said, "Role model isn't a title they normally give me." And it's true. She isn't given that title, but it's so deserved. She does what she wants, when she wants, and though one might argue that she's the exception that proves the rule, there's power in choosing to live your life exactly how you see fit.
Lindsay: I completely agree. A role model doesn't have to be someone who has a squeaky-clean image. She's made her own path, and that's all I want for myself and the young women coming under us. It's not about perfection; it's about doing what's best for you.
Danai Gurira's speech struck me as the most powerful. I don't even watch The Walking Dead, but seeing her film reel and hearing her talk about all the roadblocks Hollywood has put in her way, I realized she's really a boss. I loved hearing about her transition from getting typecast to writing her own plays like Eclipsed, which is now starring Lupita Nyong'o.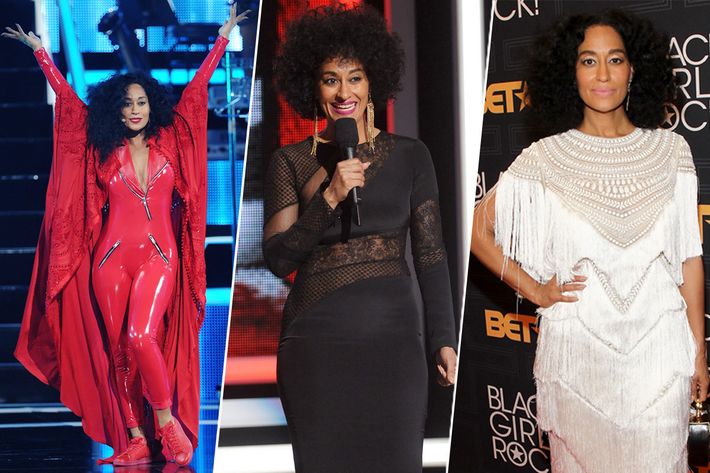 Ashley: And how about Marley Dias? Surpassing her goal to collect 1,000 books with a black protagonist by a landslide, she's still my favorite badass 11-year-old. It wasn't a surprise at all that Black Girls Rock! awarded her with a M.A.D. (Making a Difference) prize.
Lindsay: Everyone in the room was so amazed by Marley. She's so tiny and full of spunk, I just wanted to hug her! It's so important that she be rewarded at this stage of her life, to know that what she is doing matters. You never know: This encouragement with her book drive could lead her to do even greater things in the future. That's what Black Girls Rock! is all about.
Ashley: There's something I also want to briefly talk about. Last year, Michelle Obama made an appearance at Black Girls Rock! to honor the youngest winners with a prize. Nice, right? Well, not if you ask the thousands of people who complained over social media. Naysayers griped that her involvement heightened racial tensions, and the lack of inclusivity in Black Girls Rock! was unfair. I think this is stupid, of course, and just wanted to point that out. Besides, if awards that are supposed to be open to everyone routinely keep us on the outside looking in, why can't we have something just to ourselves? I mean, what even?
Lindsay: It makes no sense when people are offended by Black Girls Rock!, BET Awards, and the few special nights that recognize black talent. But speaking of having something to ourselves, I couldn't have been the only one taken aback by Hillary Clinton's appearance, because of the obvious reason that she isn't black. But I will give her credit for talking about how black leaders have shaped her life.
Ashley: On a final note, can we talk about Tracee Ellis Ross as host? She's been involved with the show in some form or another for ten years. Watching her onstage left no doubt that she is, in fact, Diana Ross's daughter. Hello, she did a dance number for the opening act — in a latex catsuit! She was as goofy, funny, and energetic as ever. Lindsay, how can we plot to become her friend?
Lindsay: I think she is the best person for this show — she really has fun with it, and I loved her point about embracing the diversity of black women with her performance of black-girl anthems like "Control" by Janet Jackson, "Work" by Rihanna, "I'm Every Woman" by Chaka Khan, and "Formation" by Beyoncé, with a different wig for each look.