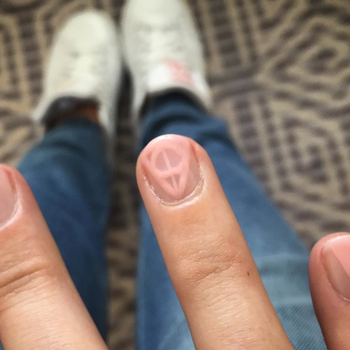 "I solemnly swear I am up to no good." Blake Lively/Instagram
Let's cut to the quick: Blake Lively's nails are proof that Harry Potter is always and forever relevant. Yeah, yeah, I started that sentence with a lame nail joke; Blake's manicure is anything but, so it's okay.
She posted an Instagram photo of her Potter fangirl nails and, as any good Potter devotee would, writes, "I solemnly swear that I am up to no good."
Blake's nails are a seriously good suggestion for how Dan Radcliffe & Co. might have kicked up the fashion a notch in the last two films. I think it's safe to say that Deathly Hallows: Part 1 could have used a boost of any kind. (Though that argument is probably best saved for a post not about nail art.)
Continue showing off your rad, nerdy nails, Blake.