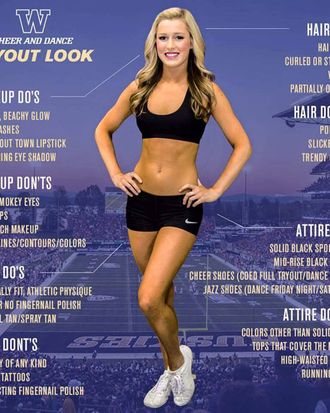 Ponytails, out. "Girl about town lipstick," in.
Photo: University of Washington
The University of Washington's cheerleading squad was forced to take down a poster that illustrated 29 hair, makeup, and body-shaming requirements for trying out for the squad. Not sure how a "natural tan/spray tan" helps someone do a backflip, but here we are.
After a social-media frenzy erupted over the poster, the athletics department realized that it could be seen as offensive and asked the squad to remove it. Detractors of the poster argued that it prioritizes physical appearance over athletic ability. In fact, ability comes (vaguely) into play only twice — "physically fit" and "athletic physique" are body dos. The other 27 points focus on clothes, skin tone, makeup, and hair.
The University of Washington told People that the poster was supposed to be a guideline for the high number of prospective Huskies cheerleaders. They removed it "immediately" after an athletic official decided it was "inconsistent with the values of the UW spirit program and department of athletics."
Nothing wrong with a uniform requirement, but it's far more entertaining to watch a cheerleader who can actually do a cartwheel (or engage in the really difficult sport) than one who can apply false lashes.