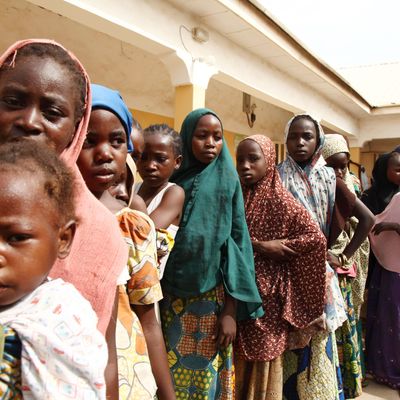 Victims of Boko Haram.
Photo: EMMANUEL AREWA/AFP/Getty Images
Yesterday, the Washington Post issued a report on what happens to the victims of Boko Haram upon rescue. Even though many women have been recently freed, they now find themselves homeless — their cities destroyed — and under surveillance "by armed men suspicious of their loyalties."
Boko Haram made international news in 2014, when the group kidnapped 276 Nigerian schoolgirls. While most of these women are still missing, the ones who are rescued have been shunned.
According to the Post, authorities say they have good reason to distrust the women because in 2015 "39 of 89 Boko Haram suicide bombings were carried out by women, according to UNICEF. Twenty-one of those female attackers were under the age of 18, many of them girls apparently abducted from villages and cities and converted into assassins."
While in captivity, the women were held as sex slaves, routinely raped and forced to bear the children of their attackers.
And when they were "rescued," it didn't feel so liberating. Writes the Post, "Soldiers burned the huts while women were still inside and shot wildly at everyone, they said. Several women were killed or disappeared during the operation, according to accounts from several former captives."
Because there was an increase in female suicide bombers after the last rescue, victims of Boko Haram are not put into camps run by the United Nations or other international aid groups. Instead, they're guarded by the Nigerian military. Their children — whose fathers are members of Boko Haram — are scorned because "people believe that the father's blood courses through the veins of his child, 'so that at some point in the future they will be likely to turn against their own community,'" according to UNICEF's head of child protection in Nigeria, Rachel Harvey. International aid groups refuse to work with these women because of security threats.
Some women, unable to handle this unimaginable pain, drink bottles of cough syrup to cope.
The government did open a deradicalization center last year "to help re-integrate the former victims, but it closed late last year, after admitting only 311 people." They did not respond to the Washington Post's phone calls seeking an explanation.