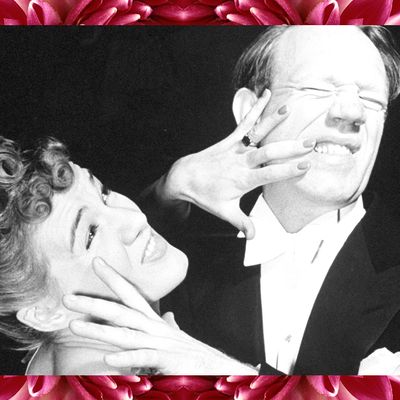 Photo-Illustration: George Karger/Pix Inc./Time Life Pictures/Getty
Welcome to "It's Complicated," a week of stories on the sometimes frustrating, sometimes confusing, always engrossing subject of modern relationships.
C was a bored stockbroker with a penchant for party drugs; J was a flip-flop-wearing, globetrotting couch-surfer who didn't want to be tied down. When he decided he loved her, she wanted out. This is their story.
C
We met through a couch-surfing website. He was visiting town and wanted to meet people. My profile photo was of my brother, so he assumed I had a boyfriend. He said, "I'm picking up a friend at the airport Tuesday night, but do you want to do a happy hour?"
J
I had a few days to kill before I picked up this other girl I was dating. She was flying in from Australia. I found C's profile and I thought she was a dude. She has a dude's name and her brother is in her picture. I was like, maybe it's a couple? Couples are cool. Turns out she just had a guy in there so men wouldn't creep on her.
C
I wasn't physically attracted to him. He's  6' 2", 240 pounds, and he was wearing ratty jeans with worn-off bottoms. He had on flip-flops and his toenails were bright purple. He was living my dream life — I felt very stuck and smothered in this small conservative town working as a stockbroker. One drink turned into seven, we got totally drunk. We took my dog home and went from one bar to the next. Finally, he was like, "Oh shit, I need to go pick up my friend."
J
I thought she looked fun. She could have one drink after work and that could turn into many drinks and many bars and 12 hours.
C
We spent summer together. We lived in houses with lots of people. Everybody was bunking on these bunk beds and they had a lot of travelers coming through who stayed and then moved on. It took a few months for us to have sex. He thought I had a boyfriend; I don't think I ever told him that first night that I didn't. He didn't hit on me and I didn't hit on him. He was very clear he wasn't looking for a girlfriend, he was like, "I'm a rolling stone, I don't need a woman to complicate things."
J
She said she just wanted to have fun and didn't want anything romantic. I was like, great. I have a girlfriend anyway. She was up for anything.
C
I was slowly becoming attracted to him. We really were friends first, but I think there was always an attraction there. We ended up hooking up and he was really sweet. He would bring me flowers. We did acid on a glacier. I realized I had to get out of my current job. I needed to move. He said, "Come stay with me in Berkeley for a month." I didn't even know if we were exclusive or not. I thought he was dating this other girl but then she ended up sleeping with my ex-boyfriend. It turns out she was dating J but he told her it was over because he was more interested in me.
J
I drove to get her, took her to Berkeley, and she didn't leave. It was supposed to be a week. The drive was very intimate. We were vibing.
C
The sex was really good, we always had fun, it was always adventurous. I loved spending time with him, but I just never thought we would be together forever. I think I was the first girl he ever really let in that way. I remember it was his dad's birthday, and I was like "We should call him," so we did. I was like, "Hey, it's J's girlfriend!" And he was like, "J has a girlfriend? We thought he was gay."
At one point he even said, "Look, I'm falling in love with you, and I've never felt like this before, and I think this could be it." And I was like, "Uh … I don't feel the same." We broke up a couple times. We would start to have arguments and disagreements, and instead of wanting to take the time and energy to understand the POV and work through our issues, my go-to was why are we even together? That was on me.
J
When she takes E she is super lovey and happy and emotional. It was nice, but then she would come down and it would be back to normal. I understand that dynamic. I just remember things being fun all the time. It was so fun in the beginning and then, as we were going, a relationship felt right. I said that to her and she was like, "Eh, maybe not." I was bummed out.
C
I was definitely attracted to other people when we were together but it takes a lot for me to want to have sex with another person. It was kind of a balancing act — we were in a hard-partying, sex-loving group of people. J was loving it. He slept with other people and I don't think I minded. I was like, "You can, I don't want to." It brought some tension to our relationship, but I don't think it was the basis of our breakup.  
J
There were group situations but we didn't have sex with other people. There was a technical line. We went to a lot of parties. I don't even remember … I am pretty sure I didn't sleep with other people. But it was a talking point, for sure. When you mix sex, drugs, and not much sleep, you get into some intense conversations.  
C
We had so many breakup talks. It just kind of lost its importance because we kept breaking up and getting back together. The final blow was kind of a whimper. We were in Italy, and I was like, "I think this really has to be it this time, we really need to not be together."
J
We had to stop hanging out, we had to stop traveling together and having fun. She went home and immediately met the guy she's getting married to.
C
There was definitely some tension, but he was living in Berlin, dating other people. I got on OkCupid and met somebody. J and I were definitely soul mates in one way. But when I met my fiancé, we had an intellectual connection, an emotional connection; I took him home the night I met him and we had amazing sex, and I've never done that with anybody. He was the one. It was amazing.
And, meanwhile, J's in Berlin, super lonely, having some not-so-great dates, he's really unhappy, he's reaching out to me for emotional support,and I'm like, "I can't do this right now, I'm getting into this new relationship with this guy I'm falling in love with," and J was like, "What the fuck? First of all, you're my best friend, and I need you. Second of all, we just broke up a month ago and you're already falling in love with this other person." I think I really hurt him and I think he was mad at me for a long time.
J
I was alone and sick in Berlin. I couldn't have fun and I was, like, pretty miserable. I think I did want to settle down with her, if she had suggested it I would have been into it. She was a super-great partner.
They are getting married in June. I'm the photographer, and I am organizing the bachelor party. I have been seeing a girl for a year now, she'll be there, too.