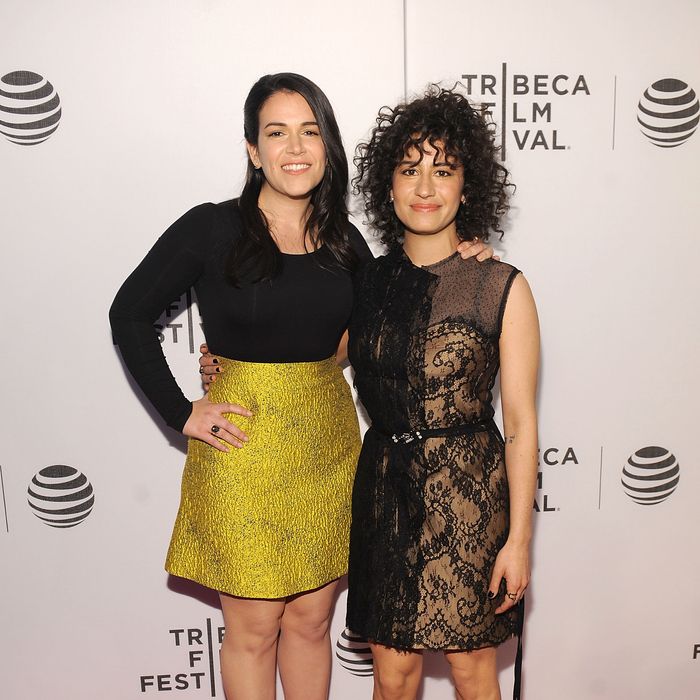 So many ideas for where this could go. Photo: Brad Barket/Getty Images for Tribeca Film Festival
On Sunday at a Tribeca Film Festival panel with Broad City show creators Ilana Glazer and Abbi Jacobson and writers Lucia Aniello and Paul W. Downs, the group imagined what future seasons could look like for Abbi and Ilana. One of these brilliant brainstorm results: a flash-forward into their golden years.


Back in January, Comedy Central renewed Broad City for fourth and fifth seasons, and the Broad City cast fantasized about what sounds like a Golden Girls–esque take on the two seasons, featuring a widowed Abbi and Ilana. But instead of four widowed women living in Miami, the show would just feature two rad Brooklyn grandmas.
After nixing the idea of the Broad City gals channeling their friend-love into romance, Downs suggested a later-in-life connection: "We could come back in season four or five and you two are both widows or something," he said. "We can have that as a thing."
Glazer was into the idea: "And then we do need each other in that way."
Regardless of how the plotline goes here, let's agree right now that both characters would be some version of Blanche Devereaux 2.0. Just swap the DAR meetings for lots of Whole Foods trips with Bingo Bronson and their blinged-out walkers.
Reported by Trupti Rami.