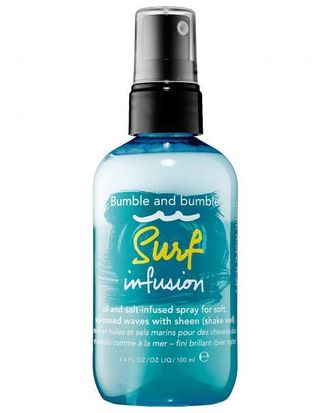 It's not sticky.
Photo: Courtesy of Bumble and bumble
Thanks to the wonders of modern beauty innovation and internet how-tos, women all over the world can achieve "beachy" waves — even if they live in the desert, hate the ocean, or have stick-straight hair. What a time to be alive! But the trade-off to beachy styling products is that they usually leave your hair feeling a little dry and crunchy, like you were actually at a beach — fine when you're in a swimsuit drinking a tequila and grapefruit, less desirable when you're in the office.
A celebrity hairstylist once told me that the key to soft yet beachy hair was to use a hair oil first and surf spray after, advice I dutifully followed for years. And now Bumble and Bumble has created Surf Infusion, a product that turns my two-step into a one-step, creating possibly the first two-in-one product that has ever worked for me.
Although it's not quite a new product (it came out last year and has been a bit neglected since I love their cult Surf Spray so much), Surf Infusion combines oil and sea salt spray to create a shinier, more hydrating, non-sticky version of the original  The bottle contains a mixture that looks like a foamy mouthwash. After shaking it, I sprayed it in between the layers and along the ends of my clean, straight hair, scrunching as I went along.
The effect was like a cleaner version of beach waves — smoother, shinier waves that looked diffuse and natural but not too Hollywood. These were beach waves minus the actual grit. If you've always avoided surf sprays before for feeling overly dirty and sticky, this is the one to try.