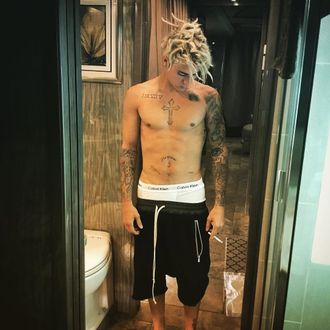 Biebs really likes his Calvin Klein briefs.
Photo: justinbieber/Instagram
Justin Bieber — he of new, Grinch-like dreads — had a hard time putting on his pants Wednesday night. Specifically, he stood in the bathroom, lit a cigarette, hung black shorts over his Calvin Klein briefs just so, and snapped a melancholic pic. This was after he jammed with some bros in socks. Can someone else help Biebs tie his shoes?