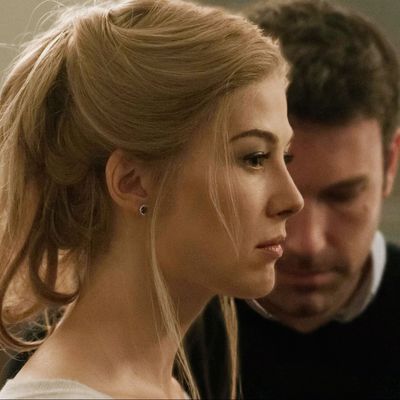 She's scarier than Rosamund Pike.
Photo: Photo: Merrick Morton/Twentieth Century Fox
There is in fact a real-life Gone Girl — she's 80, notorious for poisoning and killing her husbands and boyfriends, and known to an entire country as the Black Widow. This week, she was on the prowl.
Eighty-year-old Melissa Ann Shepard was arrested in Nova Scotia on Monday for using the internet in a public library, where she was presumably searching for more men. It was a breach of her most recent prison-release terms. Last fall, she was convicted of attempted murder for drugging her fourth husband days after their honeymoon. When she was released from prison in March, police issued a public warning, banned her from the internet, and demanded that she tell them about any romantic encounters (so potential boyfriends can be warned), along with 20 other conditions.
Since the 1990s, Shepard has harmed three of four husbands and one boyfriend. All of her victims have been elderly men who recently lost their spouses. She stole their savings, drugged their coffee and ice cream, and ran over one man twice with a car.
"Each time she struck, the headlines lamented her ever-growing web," the Washington Post recounted. Here, the chilling tale of what happened to each man.
Husband No. 1: Russell Shepard
Her only husband who wasn't the victim of "a methodical, practiced ruse." They divorced.
Husband No. 2: Gordon Stewart
In 1991, Shepard ran over Stewart twice with a Chevrolet Cavalier, on a dirt road. He was crushed and found with a near-lethal dose of drugs and alcohol in his system. When Shepard told police he tried to rape her and was trying to escape, she became a spokeswoman for battered-woman syndrome. She was convicted of manslaughter. After her release from prison in 1994, she gave speeches throughout Canada about defending herself as the victim of an abuser. She was interviewed for the documentary When Women Kill and sued The Guardian's Barb McKenna for writing an article that dubiously portrayed her claims.
Husband No. 3: Robert Friedrich
She met Friedrich, an engineer, at a church in 2001. "The Holy Spirit told me that this man would be my next husband," she later said from prison.
He started falling often during their five-month honeymoon, requiring trips to the hospital. Later, Shepard left a threatening voice mail for Friedrich's son, saying he and his two brothers were being taken out of their father's will.
Friedrich died less than a year after they married, leaving her about $100,000. His sons filed a criminal complaint against her, alleging she overdosed his prescription medicine, but she has never been charged.
Boyfriend: Alex Strategos
In 2005, she drove a white Cadillac to Pinellas Park, Florida, and met Strategos for their first date. They had met online. She stayed the night — he woke up to go to the bathroom and felt dizzy. While they lived together, Strategos started to fall often. He went to the hospital several times, where he tested positive for tranquilizers, and realized she had been spiking his ice cream with Lorazepam. She was sentenced to five years in prison for stealing $20,000.
Husband No. 4: Fred Weeks
They met in a retirement community in Nova Scotia, after Shepard knocked on his door and said she was lonely. He started to get sick during their honeymoon in 2012, but fell really ill when they were back in Nova Scotia at a bed and breakfast.
"Mr. Weeks didn't look well at all. He looked a little green, very gaunt-looking," the hotel owner said. "Mrs. Weeks, on the other hand, she was beautifully groomed, in a lovely red suit."
Weeks fell out of bed, hit the floor, and was hospitalized. Doctors found a heavy dose of tranquilizers in his blood. Shepard had spiked his coffee. She was charged with attempted murder and sentenced to three-and-a-half years in prison.
After the arrest this week, Shepard is due in court on May 24 and could face more jail time if authorities prove she broke release terms.
"Can you change?" the CBC asked her in 2005.
"I can't say that from now on I'll be a perfect citizen," she said, "but I'm just going to try, day by day, to behave myself and do what I should have been doing all along. But I can't say that that is going to be the outcome of how my life will end."