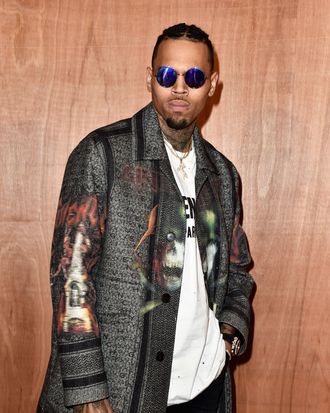 Photo: Pascal Le Segretain/Getty Images
If you had to take stock of what the world currently needs — affordable access to secondary education, men's birth control, universal free shipping at every online store — would you also add to this list a self-made Chris Brown documentary that tells the story of his life? No, surely, certainly, you would not.
But here we are. Adding to the list of Men Who Get Redemption Tours When No One Asked for Them is Chris Brown, who released a new clip from Welcome to My Life today. Brown, who assaulted Rihanna in 2009 after the Grammy Awards says, "I felt like a fucking monster. I was thinking about suicide and everything else. I wasn't sleeping, I barely ate. I was just getting high." He also mentions he went from being America's sweetheart to public enemy No. 1. 
Brown's mother is interviewed for the documentary (along with Usher, Jamie Foxx, Jennifer Lopez, and … Rita Ora), and she says, "That was the worst day of my life and probably his life. I felt like I was going to lose my child."
Can't wait to not watch this groundbreaking film.