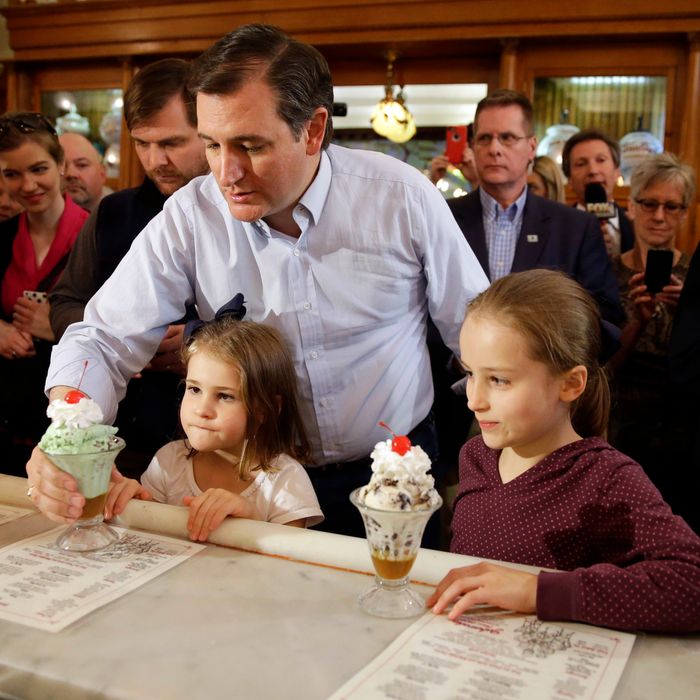 Ted Cruz and his spawn
Photo: Michael Conroy/AP
On the heels of a new attack ad that was offensive to literally everyone who is not a straight white man, Republican presidential hopeful Ted Cruz has doubled down on his discriminatory comments about trans people: According to him, not only should they not be allowed to use the public restroom of the gender they identify as, they shouldn't be allowed to use public restrooms like … at all.
Writes Think Progress:
"Every one of us has the right to live our lives as we wish," he said. "If any one of us wants to dress up as a woman or man and wants to live as woman or man and believes that we might be something other than what we were born, God has made each of us with free will and the ability to choose to do that if man to wants to dress as a woman, and live as a woman, and have a bathroom at home."

A reporter sought clarification on the remark: "So then they shouldn't use the bathroom out in public?"

Cruz then confirmed just that. "You don't have a right to intrude upon the rights of others because whether or not a man believes he's a woman, there are a lot of women who would like to be able to use a public restroom in peace without having a man there — and when there are children involved, you don't have a right to impose your lifestyle on others."
So, to be clear: His position is that trans people are free to live their lives as they wish, but that life can't include … going to the bathroom outside of their own homes? I feel like Ted Cruz's twin sister wouldn't agree with this.