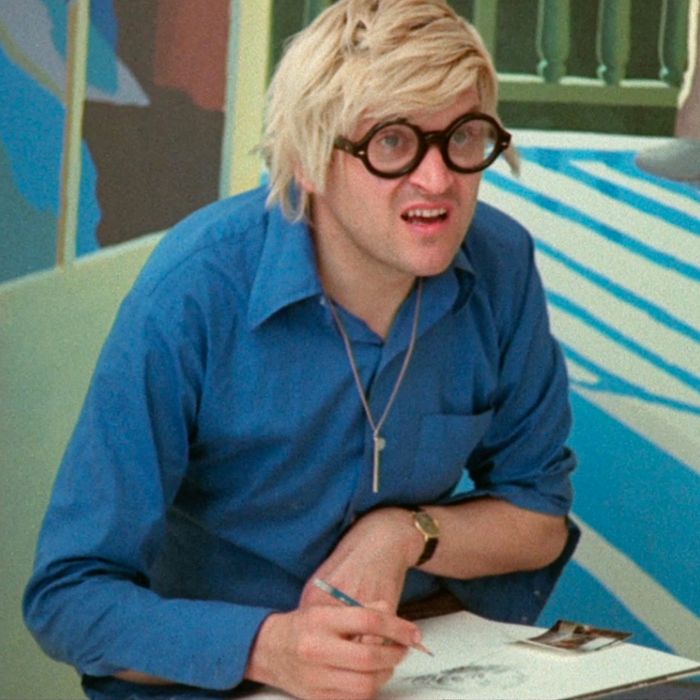 David Hockney.
Photo: Film Movement
David Hockney has been one of the most recognizable and beloved artists in the world, an art star as well known as many movie stars, for fifty years. I visited him in his Hollywood Hills home recently, where he said to me something he's said many times before, since it's a core part of his mythic self-understanding: "I was brought up in Bradford," which is the dingy industrial town in the English north he was born in in 1937, "and Hollywood, because Hollywood was the cinema."
He always lived his life as if it was a film, dressing his part, of course — the emphatically bespectacled dandy with bottle-blond hair — living as if there were cameras around, or as if there ought to be. Then, he moved to Los Angeles as soon as he possibly could, and helped shape the way we think about the city. The arc of his life is now an intimate documentary called Hockney, by Randall Wright.
"For him, Hollywood is the Florence of the 20th century," Wright says, and he moved easily between both the art and movie worlds. "He still is a very sort of glamorous figure and, at least at first sight, a very free person. So from that point of view, he was an obvious subject." What makes it so vivid is the fact that Hockney opened his video archive to him, a trove he'd been collecting all his life. "There was this kind of ready-made visual diary of his work," Wright says. Hockney has never been camera shy, of course.
The documentary is about, in part, Hockney's search for "consolation" in all his intense and varied and brightly colored creative activity. "There is a sense of longing there for something more. I could provide almost a survival strategy," says Wright. "He always puts himself in the place of constantly searching, but he never arrives. There is a loneliness about him. He's surrounded by people, but there is an isolation."
Perhaps this is the nature of making portraits, especially of his friends. The film, among other things, shows how he seemed to know everyone interesting to know, including, in this exclusive clip, Celia Birtwell, the textile designer who was once married to the late fashion designer Ossie Clark. (Hockney and Clark were also, for a time, lovers.) Here, Birtwell talks about the wedding picture Hockney made of them — Mr. and Mrs. Clark and Percy — which, like so many of Hockney's dual portraits, shows two people who are both together and apart. (The cat was a taxidermied stand in for their actual cat, who couldn't sit still.)
Hockney opens April 22 at the Film Society of Lincoln Center and at Metrograph in New York.