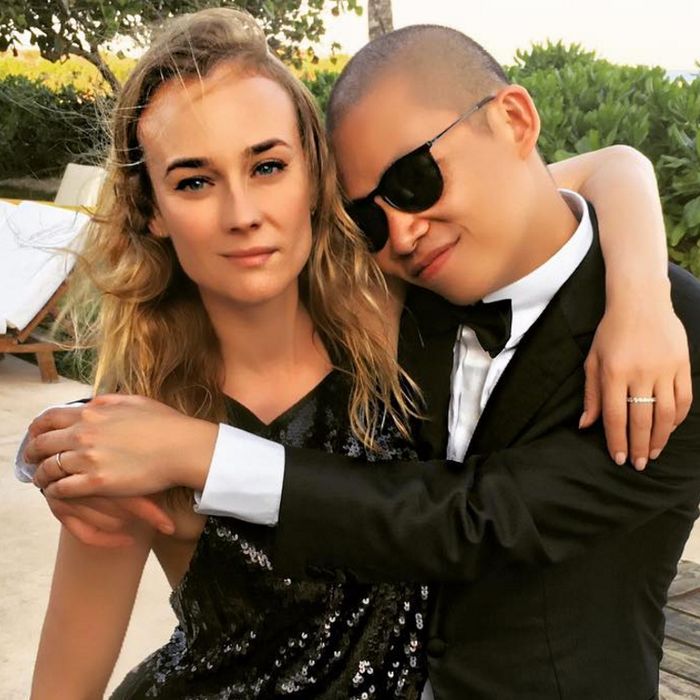 Diane Kruger and Jason Wu.
Photo: melvin0619/Instagram
Diane Kruger confirmed what all of those Instagram photos made us believe: Jason Wu's top-secret wedding in Tulum was awesome.
"It was probably one of the best weddings I've ever been to," Wu BFF Kruger told the Cut at the Cinema Society screening of her movie Sky on Thursday. "It was really chic, too, like we took over this hotel, so it was just guests," she added. "So it felt like an adult vacation camp, and it was debauched and wild, and everything you would want to do at a wedding." She didn't go into details, but there were hunky shirtless waiters circulating with trays of tequila shots, and the food, Kruger said, was delicious.
It's even more impressive that Wu and husband Gustavo Rangel and guests including Bryanboy, Constance Jablonski, and Jennifer Fisher managed to keep the nuptials a secret, because it was not a last-minute, "surprise-we're-getting-married" kind of affair. "We've known for, like, six months," Kruger told us at the screening, which was hosted by Hugo Boss, where Wu is artistic director. "It was really fun."