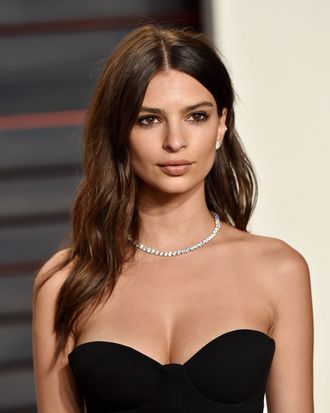 Photo: Axelle/Bauer-Griffin/Getty Images
The fabulous Emily Ratajkowski — you know her from the "Blurred Lines" video and her campaign support for Bernie Sanders — was profiled in Women's Wear Daily today. The author's words really aren't worth reading (the phrase "effectively motorboating her followers" is used to describe Ratajkowski's social-media habits), but Ratajkowski's quotes are good — which is pretty unsurprising when you consider she's a lot smarter and cooler than most people give her credit for.
Here she responds to people who don't like her sexy selfies (??):
My response to people saying I post oversexualized images is that it's my choice and there's an ownership and empowerment through them. When I take nude photographs, I'm not there for the boys. It's about owning my sexuality and celebrating it. And it's my choice and there has to be room for that in our culture and in our world.
And here she is on getting hateful comments from both men and women:
Honestly, some of the comments are so interesting because some people just really miss the point. They don't get it. They're like, 'This is an excuse to be a slut' or 'This is an excuse to post overly sexualized selfies'. And the negative comments were coming from both men and women, it was really interesting.
And here she is on how feminism is all about making your own choices:
We're existing in a patriarchal society, yes, and the standards of beauty are a response to that. That doesn't mean I need to act outside of it, I can act within it to make a point. For example, I wear makeup but that doesn't mean I'm not a feminist. I may wear makeup that enhances my features [and] that plays into the standard of beauty that has been set up by a patriarchal society but I'm living within it. I'm not wearing the makeup to please men, I'm wearing it to please myself. I also am not growing out my armpit hair in protest of patriarchy. I wear a bra. Those are things that I don't feel I need to reject to make a statement about my sexuality.
Not that we should pit women against each other, but Emily Ratajkowski is the best feminist celeb.