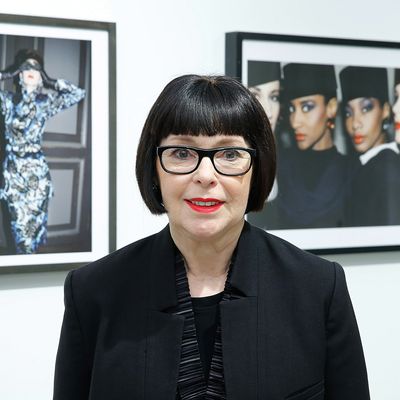 Roxanne Lowit.
Photo: John Lamparski/2014 John Lamparski
Roxanne Lowit, who made a career by photographing glamorous fashion moments and crazy nights at Studio 54, has stepped in front of the camera for a new documentary, Magic Moments, directed by Yvonne Scio. At a screening of the movie at the Museum of Arts and Design, Lowit talked to the Cut about her signature all-black look and how it's helped her be a backstage chameleon.
"I liked the club kids, I like the social ladies, I can go from downtown to uptown," she said. "That's why I wear black. You're good downtown, you're good in the morning, you're good at night, and you're good uptown. I'm interested in people, I'm interested in fashion, and I'm interested in life. And I think wearing black allows me to walk through different worlds."
In the film, Lowit says she was told that she couldn't be a photographer because she didn't look like one of the burly, Safari-vested paparazzi that came before her. But Scio agrees that her style — completed by her Edna Mode bob — actually helped her career. "She breathes New York. She could only be a New Yorker. She passes through all the pop culture. She represents the American cross-over, I think, through fashion and art and culture."
In the film, Giambattista Valli, Giorgio Armani, David LaChappelle, and Julian Schnabel retell — and often tear up recalling — their experiences with Roxanne. LaChappelle recounts Lowit gently telling Pamela Anderson that her panties were showing. Armani calls her his "lucky charm." Kelly Cutrone names Lowit as her female role model. The screening was an intimate gathering of some of the stars of the movie, including Pat Cleveland and Angela Missoni, hosted by Scio and W editor Stefano Tonchi.
"I feel thrilled because I get to see all of my friends, all of my old friends. And all my associates and all the people I've worked with," Lowit said. "It's just fantastic."