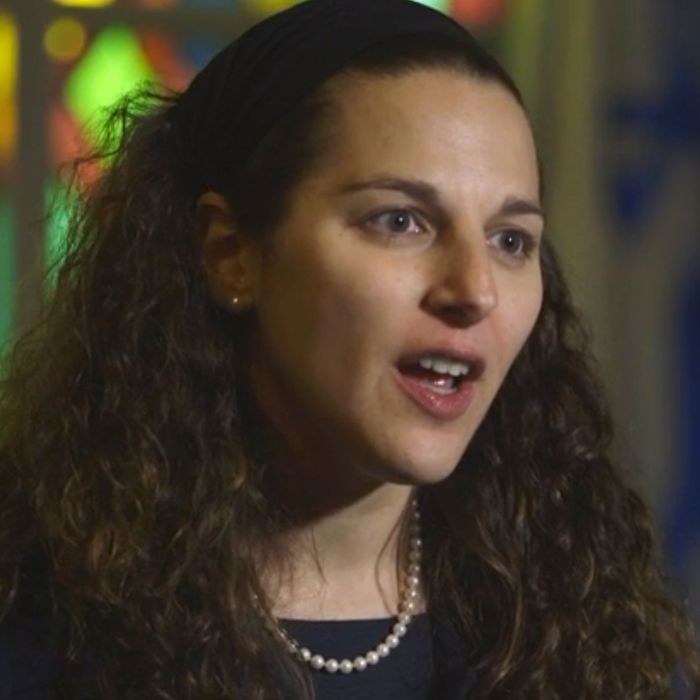 Rabbi Lila Kagedan.
Photo: CNN
Today's truly good news: Rabbi Lila Kagedan is the first woman to hold the title of "rabbi" as a leader of a U.S. Orthodox Jewish congregation. She was named rabbi of Mount Freedom Jewish Center in Randolph, New Jersey, located about an hour outside of New York.
"Growing up the only model of rabbi in the Orthodox world were men," Kagedan, a 35-year-old Montreal native, told CNN. Her father, who died two years ago, encouraged her studies. "His message to me was to arm myself with the rabbinate texts, to know them intimately. … But he cautioned me not to be angry. And if I was feeling angry about exclusion to take that anger and do something very productive with it."
She graduated from the Yeshivat Maharat school, which opened in 2009 as a place to cultivate female leaders in the Orthodox community. Last fall, the Rabbinical Council of America (an organization of Orthodox rabbis) spoke out against Yeshivat Maharat, claiming that ordaining women as rabbis is "a violation of our mesorah [tradition]" and "a path that contradicts the norms of our community."
But Kagedan was adamant about being called "rabbi." Previously, women have taken the title "rabba," meaning female rabbi.
"I knew that I wanted my title to be the most accurate description of my training," she said. "I didn't want to walk into a room or a space and have there be any ambiguity of what it is that I was there to do. What my training was. What my skill set was."
She said she hopes to create a place for more women to take leadership roles and give young girls "a sense that anything is possible."