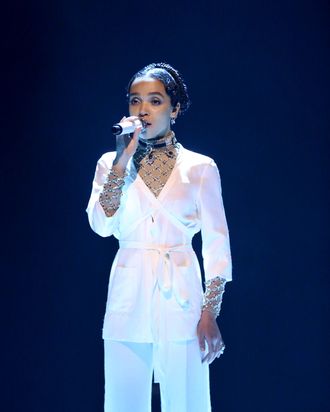 FKA Twigs looks this good without fancy celebrity beauty treatments.
Photo: Andrew Lipovsky/NBC/2016 NBCUniversal Media, LLC
For its May 2016 cover, Allure interviewed singer FKA Twigs about her beauty routine. It was brief because FKA Twigs has a charming, normal-person beauty routine, mostly because she didn't realize that the very, very small upside of being famous enough to be paparazzi-stalked are luxurious beauty treatments.
"I didn't realize until about six months ago that people, if they're singers or actors, they go and have facials and massages and stuff like that. I only just found out. No one [told me]!" she said.
Reap in those celebrity perks, FKA Twigs! (You might want to skip that bee thing though). And come next tax year, don't forget that you're among the lucky few who can claim fancy facials as a business expense.