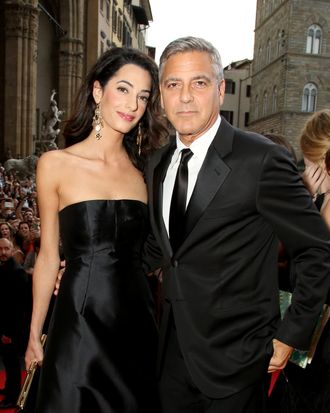 Amal and George Clooney.
Photo: Rachel Murray/Getty Images
Former TV doctor George Clooney is on the cover of Esquire this month, looking beautiful. In the corresponding interview, he made the following admission when discussing his partner, human-rights lawyer Amal Alamuddin Clooney: "Oftentimes, I feel like an idiot talking to my own wife."
Good!
You can read the full interview here, in which he waxes philosophical on his friendship with Barack Obama, immigration policy, and the 2016 election. My worry now is that George Clooney does not feel like enough of an idiot to not run for Senate in four years.