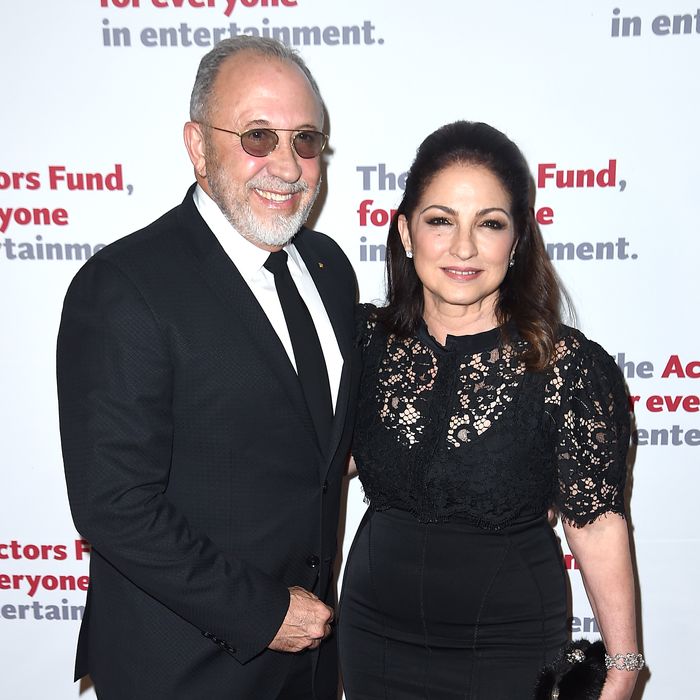 Emilio and Gloria Estefan at the Actors Fund gala.
Photo: Nicholas Hunt/Getty Images
Gloria and Emilio Estefan are happy that Karl Lagerfeld will show his Chanel cruise collection in Havana. "That's wonderful," Gloria said at the Actors Fund gala on Monday, where the two were honored. "The more people that go there and show them the free world, that's great for the Cuban people," Emilio said, even though they still fiercely oppose the Castro regime.
Despite the fact that the clothing is inaccessible to all but the wealthiest Cubans, they still see the Chanel show as a good thing.
"Listen, it doesn't matter, it's there, the image is there, they're seeing beautiful clothes, they're seeing fashion," Gloria said. "And by the way, Cuba was huge in the fashion world. In Cuba B.C. — before Castro — the fashion would come out in Paris, and it would be in Cuba the same day. And it was a very, very elegant country; people dressed to the nines there. If you look at the fashions of Cuba in the '30s, '40s', '50s, it was always cutting edge of fashion. So one day again it shall be. Right now, they're just trying to find something that they can wear, and it's tough."
She added that when planning their Broadway musical On Your Feet, she and Emilio based some of the costumes on old photos of her mother, who, she says, dressed beautifully when she lived in Cuba. "Cuban women would not leave the house unless they were put together. Whether they were going to the supermarket or wherever it was, they were very well dressed, and we wanted to capture that here in the play."