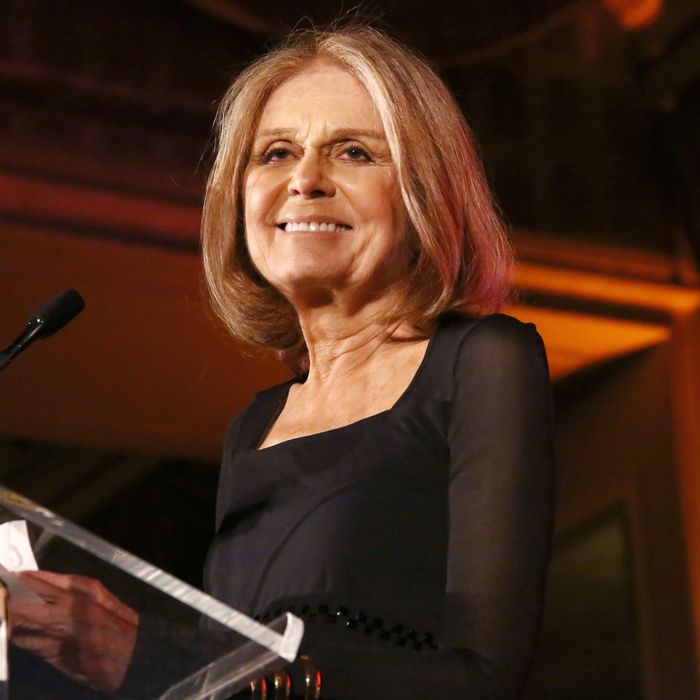 Gloria Steinem at the Gloria Awards.
Photo: Astrid Stawiarz/Getty Images
While hosting the Gloria Awards on Wednesday night, Gloria Steinem praised Hillary Clinton, dropped the F-bomb twice, and likened Donald Trump to a Barbie doll at a tanning salon.
"I think I'm sort of required to say something unacceptable right away, so welcome to this great fan-fucking-tastic — how many of you have been with us at least once before?" Continuing her opening speech, she nodded to some trailblazing women (Harriet Tubman gracing the $20 bill, Jane Addams, Ruth Bader Ginsburg) before comparing Donald Trump to a plastic doll who fake-bakes at the spa:
Now, I have to say there's one person who isn't here and who's never come to our events, and I don't know why, and that's Donald Trump. But I noticed there is new evidence of equality in the air because he so constantly berates women and berates good ones like Rosie O'Donnell. I noticed that women have yet to berate him — Barbie doll hair, a sun lamp tin can with cucumber circles over the eyes, and every once in a while when his extensive jacket swings open, a gelatinous mask …

Of course, he was born on third base and he thinks he hit a home run, but he may find out what real equality feels like. Fortunately, there are men in this room, each of whom all by themselves makes up for Trump.
Steinem later told the Cut what she thinks of Trump's woman card.
"He doesn't deserve comments. Fuck him!" she said (second F-bomb). "No, it is true that because he has been so critical of how women look, people are now looking at how he looks, which is a disaster. … Look at the poll numbers and understand what a gender gap he has against him. He would never say that about race. Even he wouldn't say that about race."
Actually, Trump did drop the race card — in 1989, 27 years ago. What could be worse? Oh, that's right: real children playing with a real Trump doll.
Reported by Vicki Salemi.