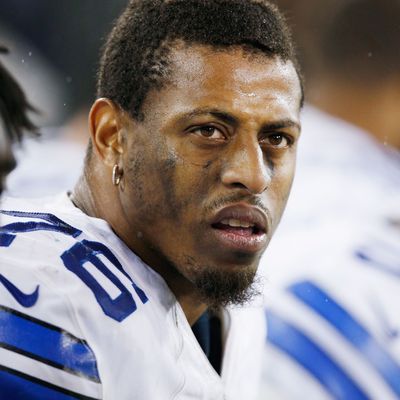 Photo: Joe Robbins/Getty Images
For reasons that are not immediately clear, except "this is the way the world works," Greg Hardy (a former defensive end for the Carolina Panthers and current free agent) was granted a sit-down interview with ESPN this week to begin a public redemption tour after he was arrested for brutally abusing his ex-girlfriend Nicole Holder in 2014. The interview had everything: denial, references to the Bible Belt, the implication that photographs like those of his ex-girlfriend could be doctored, many repetitions of the word situation.
Hardy says he has never hurt a woman, though images and testimony from the Holder case counter that fairly decisively. "I've never put my hand on ANY women … In my whole entire life. No, sir," Hardy said. "That's just not how we're raised. As you can tell, like I said again, it's the Bible Belt. It's just something that's, I wouldn't even say frowned upon, just something that's nonexistent in most Southern homes." He went on to claim, "Pictures are pictures and they can be made to look like whatever they want to." Hardy continued to defend his innocence, though he settled Holder's case against him out of court.
How nice for Hardy that he can go on TV and say whatever he wants, while Holder, the victim, has had a markedly different experience since the trial ended. In a statement that aired during the ESPN interview, Holder said, "I have worked very hard to distance myself from the media. I have relocated twice, changed my phone number more times than I can remember — I've even considered legally changing my name. In four weeks, I will be graduating from college with a Bachelor's Degree in Operations Management. My focus is on finding a job, which has had its own unique challenges because of the news coverage related to my name. I am trying to move forward with my life and am asking the media to respect my privacy and wishes."
Justice in action.