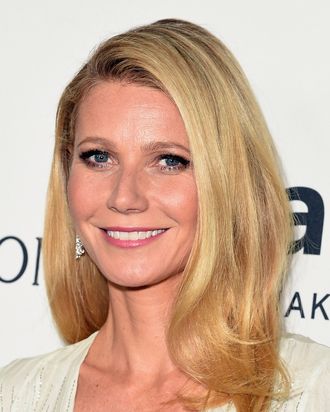 Blogger, conscious un-coupler, DESIGNER.
Photo: Jason Merritt/Getty Images
Gwyneth Paltrow has been teasing a clothing line for at least a year and a half, but amid all that blogging and bee-sting beauty treatments, she just hasn't gotten around to it. Now, however, Paltrow has a launch date for us. Last night, she told an audience at the Hudson Union Society that a Goop clothing line is headed our way in September. As reported by Racked, she told the crowd, "I've been working on apparel — apparel is next. In September, we're going to launch apparel, and it's very exciting."

As for what sort of organic, fair-trade, sustainable, bee-friendly magic fabric it may be woven from, that's anyone's guess — Paltrow didn't reveal any other details about the line.