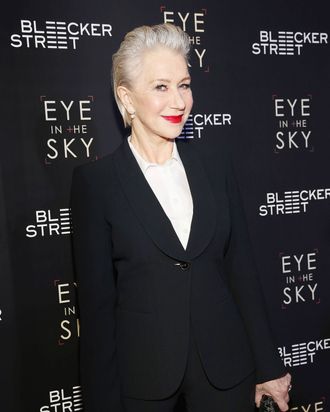 Photo: Monica Schipper/Getty Images
From dying her hair pink to wearing a biker jacket on the red carpet, Dame Helen Mirren has shown an admirable commitment to pushing her look in ever-edgier directions. Her next experiment: sleeve tattoos.
In an interview with the U.K's Radio Times, Mirren said she is considering supplementing her existing ink — a set of interlocking Vs on her left hand — with something a little more ambitious.
"I want to get another one, actually. I'd like a whole sleeve," the actress revealed. "As you get older, I think it's a better and better idea."
What does she have in mind? "Some sort of curving pattern running up my arm," she explained. "Maybe a snake — I quite like snakes."