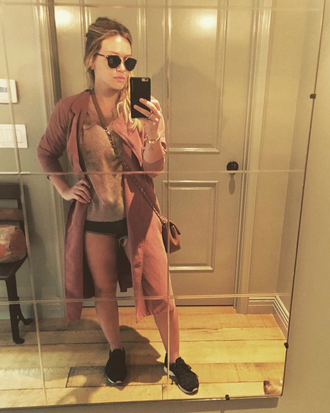 Mom style. Hillary Duff/Instagram
Hilary Duff, Brooklyn mom extraordinaire and social-media savant, has mastered the school drop-off outfit, and she suggests other multitasking moms follow suit, lest they show up in Lululemon sweats! She shares the following on Instagram:
Hey moms! I came up with a semi cute outfit for school drop off! I usually roll in sweat pants or lulu lemons and look like a disaster but this morning I managed to throw something cute together and I thought would share. Cut offs or jeans. A light weight trench over a sweater or tee, cross body bag sneaks or booties and a pair of Sunnies!
The "sunnies" are surely to keep her in chill, controlled mom territory.