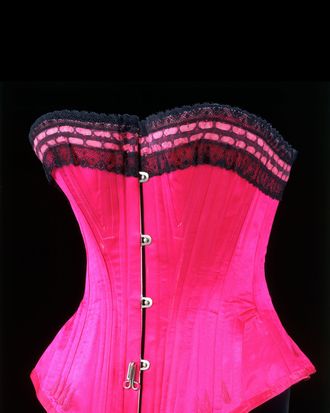 Photo: Victoria and Albert Museum; London
"I think we underestimate our underwear, and the impact it has on wider patterns of fashion, society and design," says Susanna Cordner, assistant curator of Undressed: A Brief History of Underwear at London's V&A Museum. The exhibition, which opened last Saturday, is a deep dive into the last 250 years of corsets, crinolines, butt-lifting briefs, and scandalous thongs.
It's an often-discussed fact that what is considered a "body ideal" for women changes all the time — from Marilyn Monroe to Kate Moss to Nicki Minaj. But the truth, argues the V&A show, is that underwear innovations have always played a significant role in these trends. "At the turn of the 20th century, you wanted to have a very high, almost a bridge of a bust, and then a protruding bottom, so you created an S with your body," says Cordner. "But it was experimentations in corsetry that allowed you to achieve that shape, which then made it desirable, which then made more and more people want to buy into it."
Similarly, Monroe's now-legendary hourglass shape was often enhanced with padded hips and a pointed bullet bra, says Cordner. And we still romanticize the figures of contemporary stars today, without always recognizing the artifice: "A lot of celebrities have a very sleek silhouette, but there's a lot of shapewear hidden underneath, creating that. In the exhibition, we have a waist trainer — the model that Kim Kardashian wears — and a butt lifter from 2015. People are chartering their body types and their exercise routines to try and achieve this bodily ideal, but the mainstay of it is actually the underwear underneath."
The exhibition opens with a close look at an item that wasn't a million miles from the waist trainer: stays, the 18th-century precursor to the corset. Like corsets, stays compressed and shaped the body using strips of whalebone, and just like today, women suffered to achieve their desired look. In a letter written in 1778, the Duchess of Devonshire complained that her stays cut into her body and made her arms sore. Still, she added, they created a fashionable shape, "and pride feels no pain."
In the 19th century, side hoops and crinolines were worn under the clothes to exaggerate the lower half of the body, but dragging them around all day could cause accidents — newspaper satire at the time often mocked women for their impractical clothing. Later, the trend for S-bend corsets put pressure on women's reproductive organs and skeletons, leading to lower back pain and walking problems. And as the exhibition explores, we're still augmenting ourselves today, albeit more safely: think Wonderbras, and Aussiebum men's briefs with added volume in the crotch.
The show also covers the use of underwear motifs in fashion design, and the emergence of specialist pieces like mastectomy bras, string briefs, and latex stockings. Click through the slideshow for Cordner's guide to ten of the most fascinating items in the collection.
Undressed: A Brief History of Underwear is at the V&A Museum in London from April 16, 2016, to March 12, 2017, sponsored by Agent Provocateur and Revlon.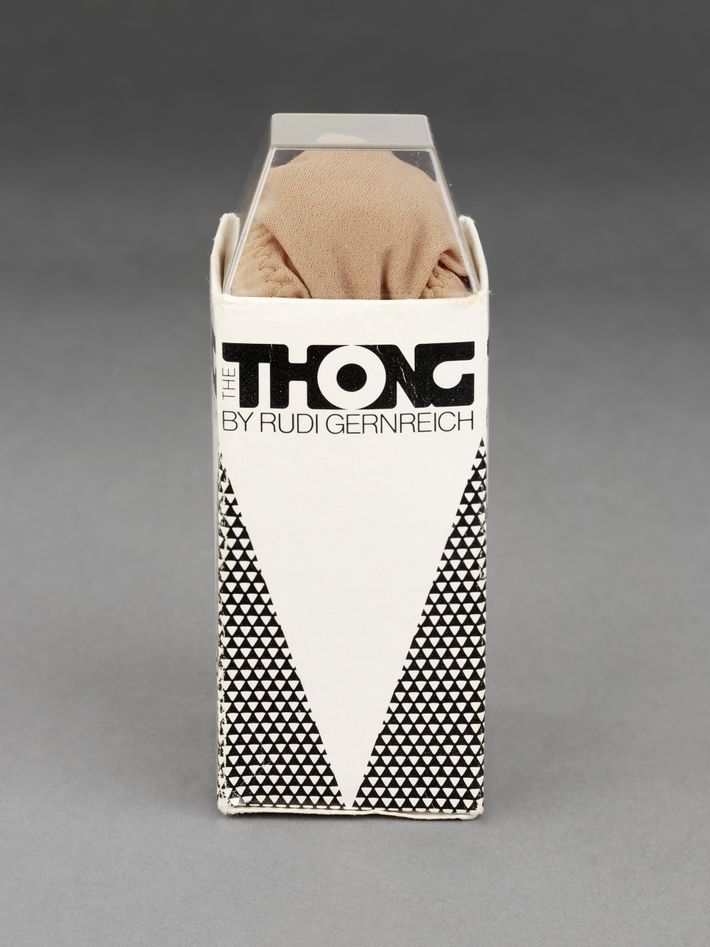 The Thong by Rudi Gernreich, 1978
"Rudi Gernreich started selling thongs as swimwear from 1974, and as underwear from 1975. He's credited with naming the thong. At the time it was seen as this very extrovert, very controversial item that was all about nudity and exposing the body as much as possible. The packaging's also quite phallic."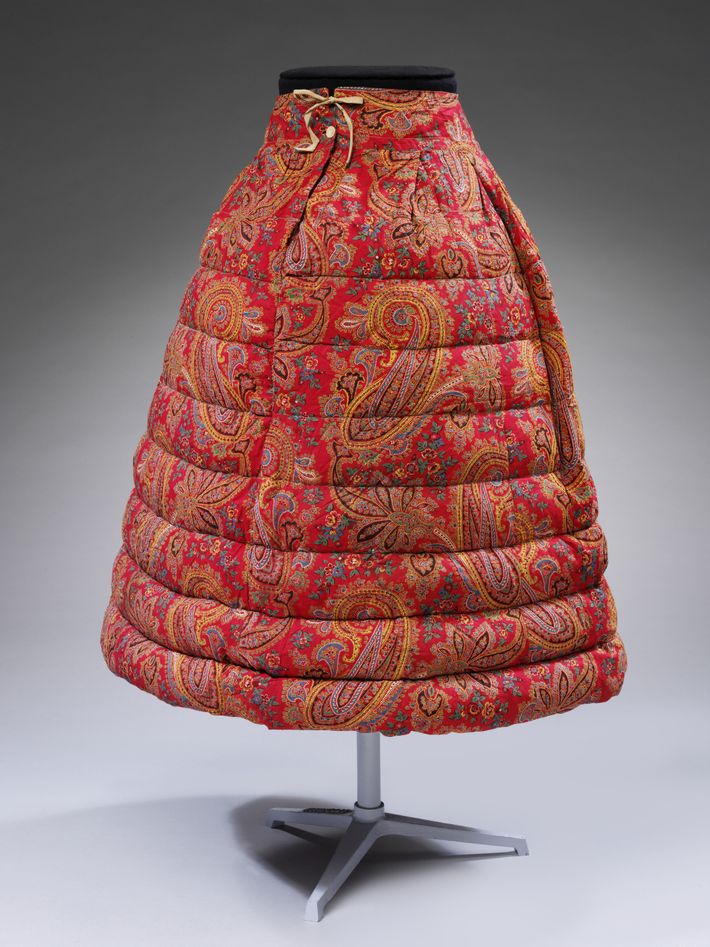 Petticoat manufactured by Booth & Fox, c. 1860, © Victoria and Albert Museum, London
"This is a petticoat padded with goose down. The tiered shape would provide volume alongside the layers of petticoats that you would wear to achieve the fashionable silhouette in the 1860s, which was almost a bell shape. Beyond that, it's an item of comfort, which would have kept the wearer warm. This colour scheme and print would have been worn on a lot of women's shawls at the time; people often assume that historic underwear is all made of linen and it's all white, but this is proof that that wasn't the case."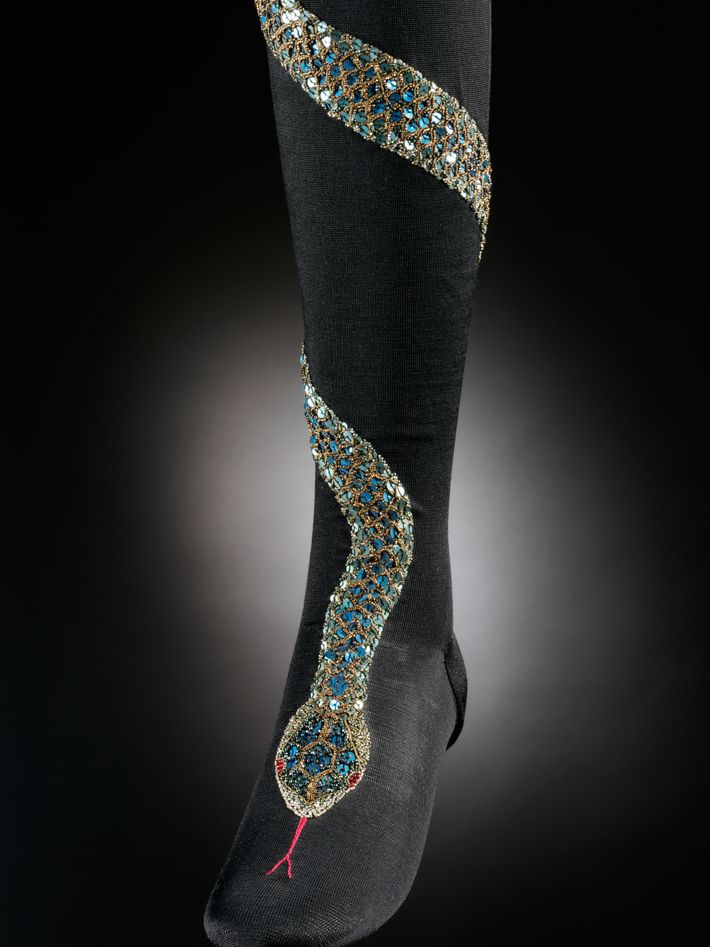 Sequin snake stocking, 1900 © Victoria and Albert Museum, London
"These stockings are all about temptation. There's something so exotic and sensual about the idea that it's this hidden garment that only you or the person undressing you will ever see, but this sparkling snake awaits underneath. Again, it disproves the idea that underwear wasn't about ornament in the past. It really was — we've always wanted to put our best front forward."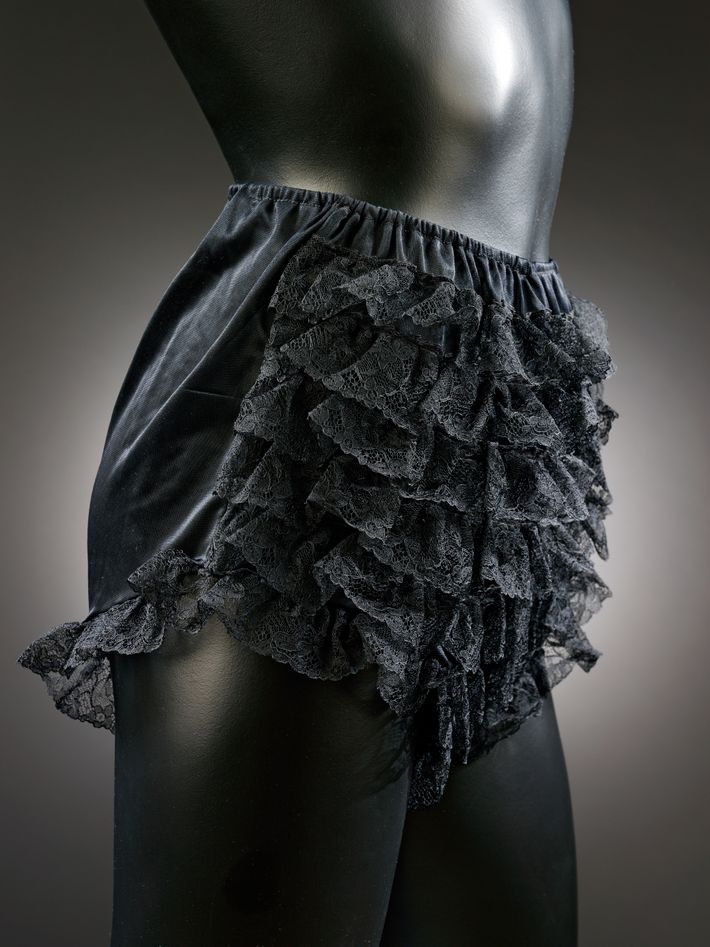 Knickers, 1960 © V&A
"These were worn by Ruth Sheradski, who was a fashion illustrator and journalist. They have pleats of machine-made lace running down as ruffles over what would be the tummy and the hips. It was a very brief moment of fashion in the late 1950s, where to have a tiny waist and a really defined bust and then a little bit of a tummy was the look that you were striving for. The likes of Marilyn Monroe were definitely aiding that."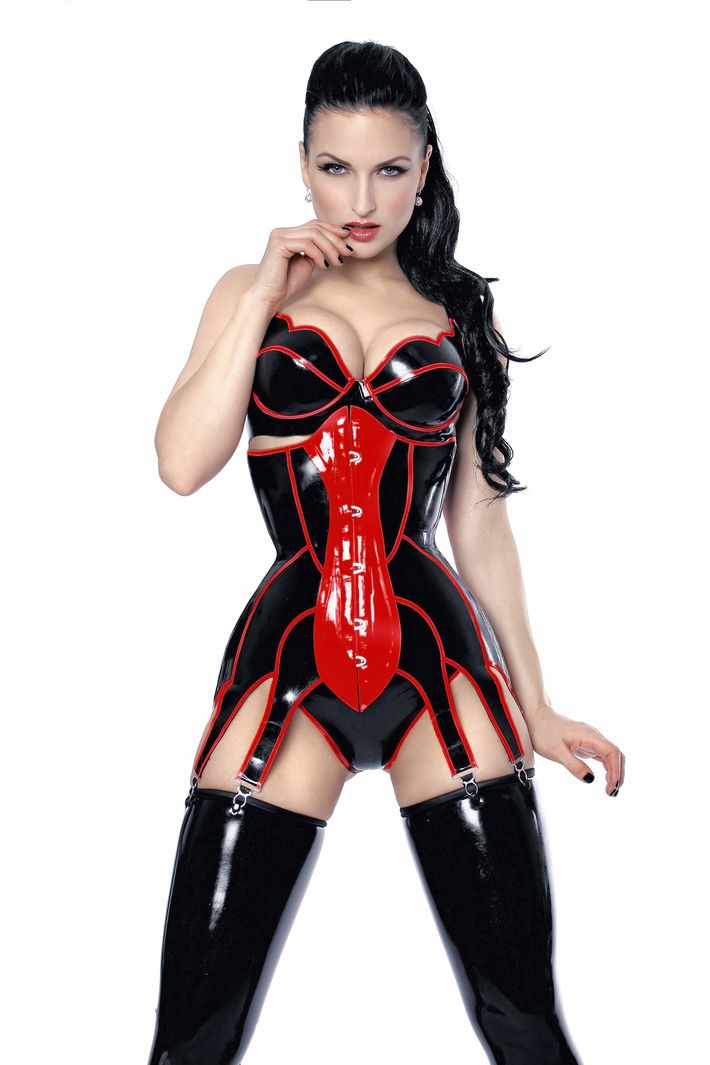 House of Harlot © Sister Sinister
"The 1980s club scene really brought fetish latex underwear out into the public. House of Harlot is a fascinating brand, because they have a very respected reputation within the fetish world, but they also have a lot of high fashion connections. I think this set is quite empowering. It's almost like she's wearing a deadly spider."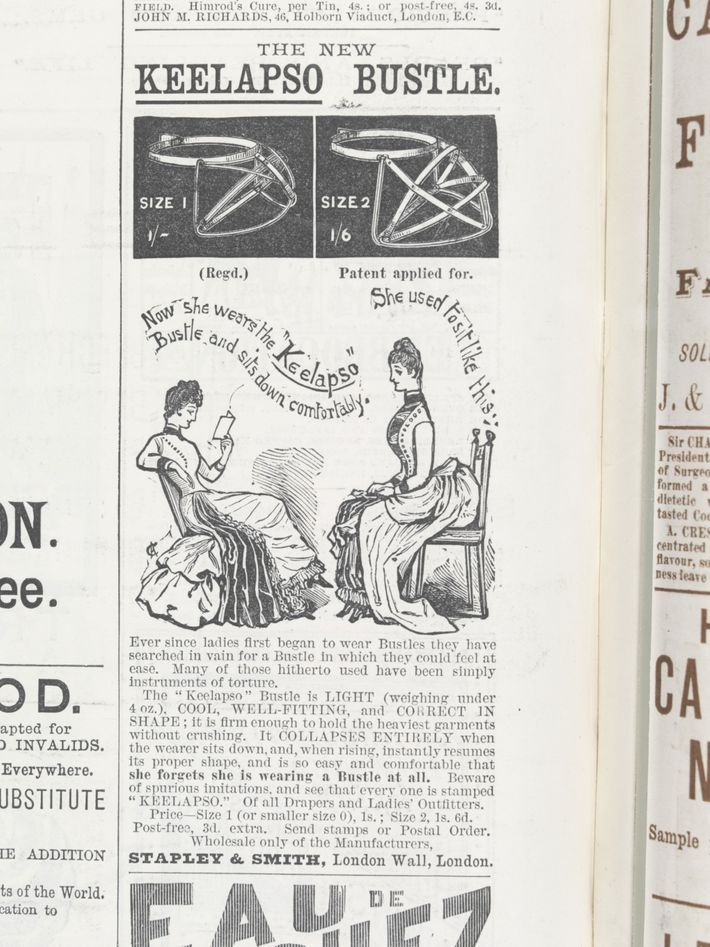 Advertisement for 'The Keelapso Bustle,'$2 1887 © Victoria and Albert Museum, London
 "Bustles and crinolines got a very bad reputation, because of the amount that they could hinder a woman's public life — so Stapley & Smith invented the Keelapso bustle, where instead of having to perch right on the edge of her chair, the practical, modern woman could recline without being hindered by her own fashionable silhouette."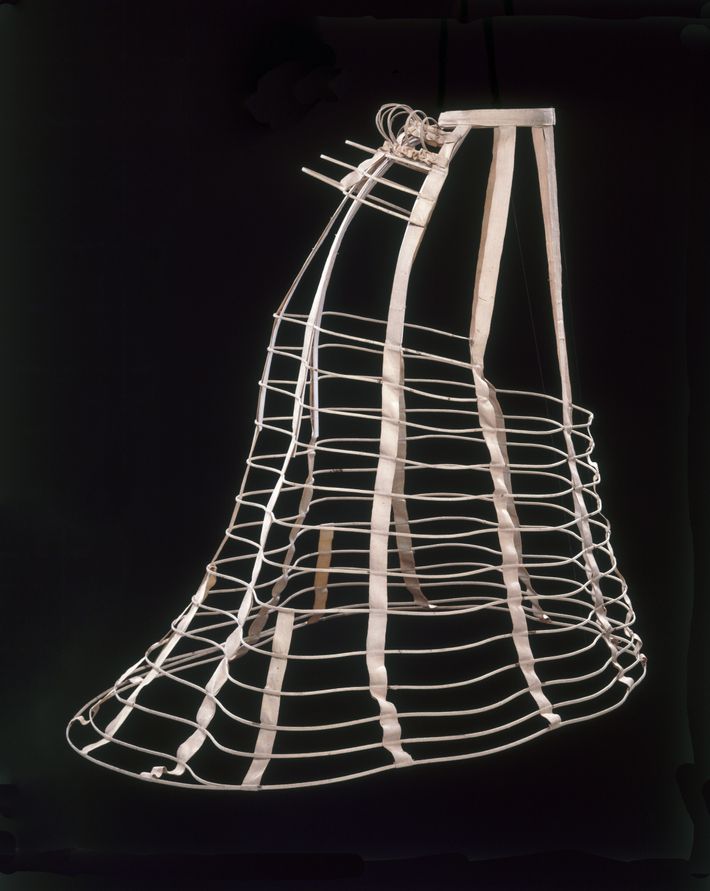 Cage crinoline, the 'Princess Louise Jupon Patent,' c. 1871, © Victoria and Albert Museum, London
"This is nicknamed after one of Queen Victoria's daughters, who was considered a little bit rebellious. Crinolines can be incredibly beautiful, and can seem quite ghostly to us now. They were normally made of very lightweight steel joined by ribbons, and you would still wear them with petticoats, but you wouldn't have to wear as many. I like the fact that crinolines don't contort the body, they build beyond it."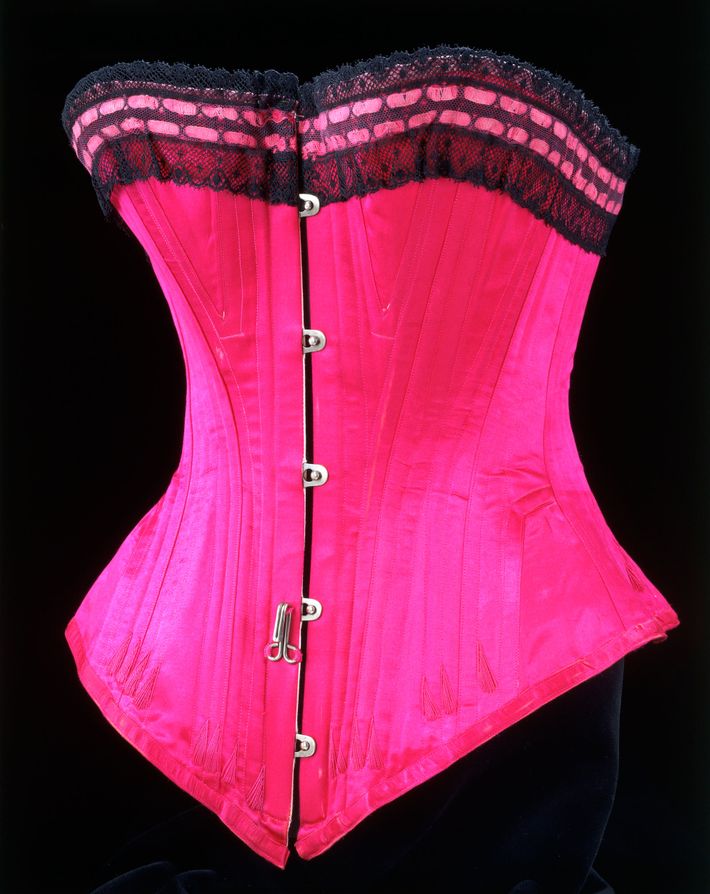 Corset, 1890-1895 © Victoria and Albert Museum, London
"When I've shown people this corset, they haven't necessarily been able to date it. It's just this absolute shocking pink. While to us that looks like such a bold statement, at the time it was considered OK to wear colors like this, so long as you didn't wear them against your skin. The combinations or shift you wore underneath would be more neutral and toned down, and so the overall effect wasn't too sexualized."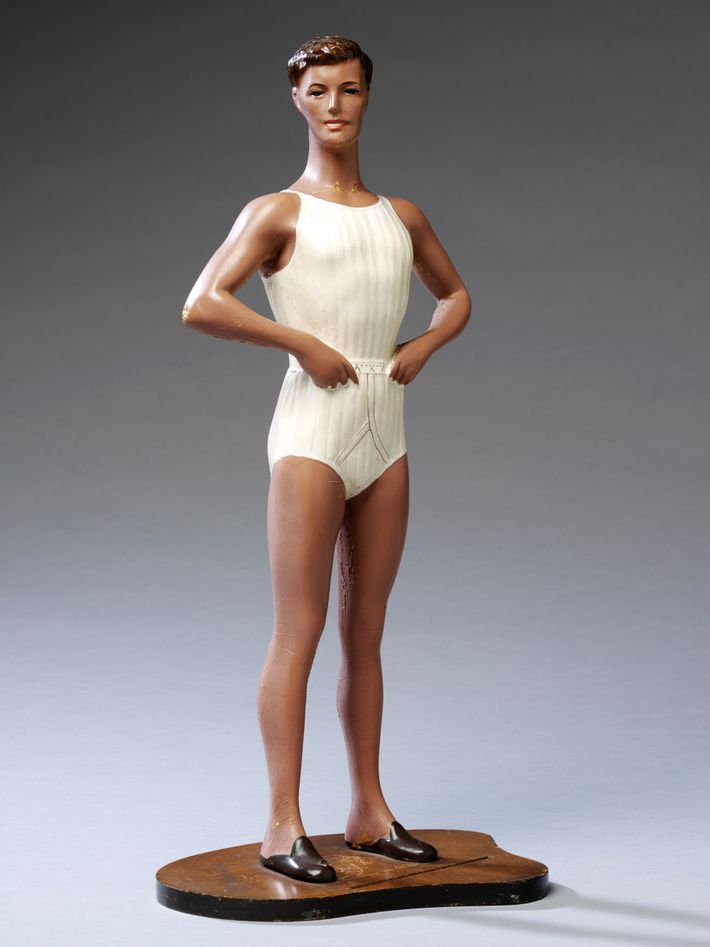 Display figure and advertising card for Y-front pants, 1950s, © Victoria and Albert Museum, London
"This figure stood on a British department store's display stand, when Y-fronts were a new trailblazing design idea coming over from America. He's young, he's athletic, he's proudly got his hands on his waistband, and there's something so energetic and endearing about it. Y-fronts have quite negative connotations now — we think of graying elastane and cotton. But this is so vibrant."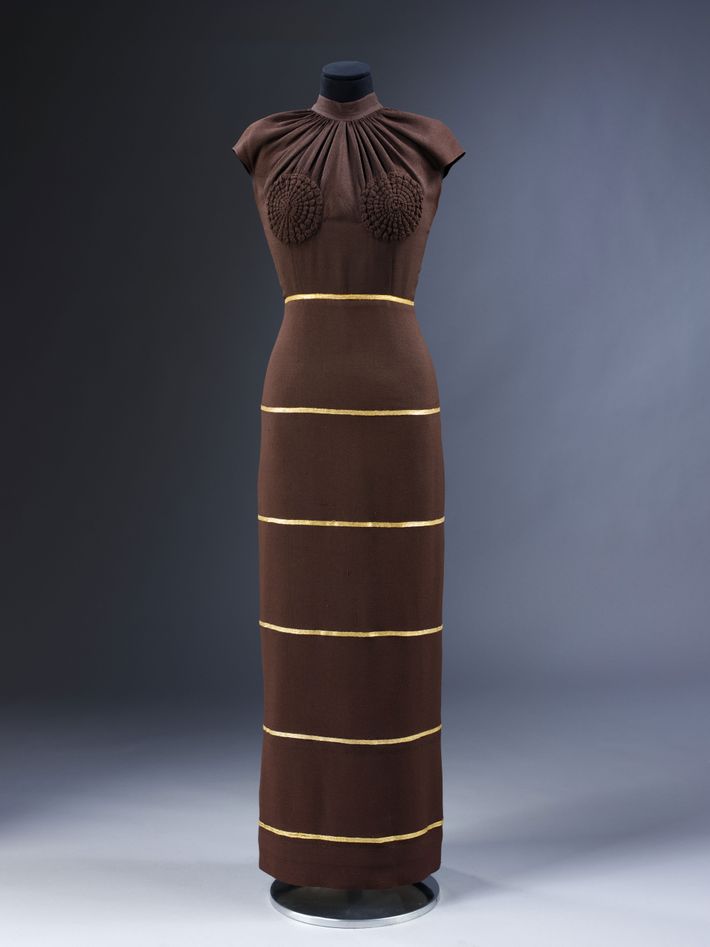 Dress, Elsa Schiaparelli, 1936, © Victoria and Albert Museum, London
"This dress is very slinky, but then the trick kicks in around the bust. Over each breast she has a padded, embroidered section, and the idea or the joke is that she's wearing her padded bra on the outside — so she's toying with the idea or exposing the idea that she's got a padded bust."