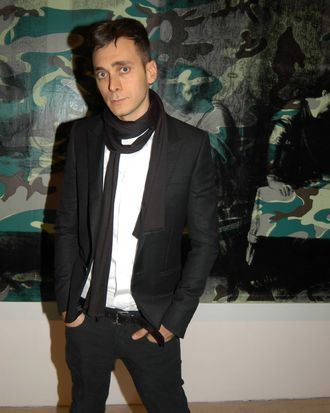 Hedi Slimane
Photo: Sam Bolton/PatrickMcMullan.com
It's hard to believe that it's only been four years since Hedi Slimane took on the mantle of creative director at Saint Laurent — a position he shed today. He had spent the previous couple of years living in his adopted hometown of Los Angeles, photographing the kinds of grungy, heroin-chic kids who inspire his aesthetic. He was famous for never learning to drive, and rumors swirled that he was ferried around L.A. in a Bentley with tinted windows.
Right away it was clear he would not be one of those designers who gratefully take on the top job at a luxury house without asking a lot of questions. The headquarters would relocate to Los Angeles — about as far from stuffy Paris as it gets, culturally. Slimane would, scandalously, demand that the brand be renamed and the logo redesigned, spurring a flurry of protest from YSL fans and T-shirts that read "Ain't Laurent Without Yves." And he would have an unusual amount of leeway to do the things he wanted, whether that meant putting everyone from Joni Mitchell to a 23-year-old rando he met at a music festival in ads that only he was allowed to photograph, or hiring his favorite under-the-radar bands to play his shows, or showing micromini hemlines that had the jaded front row clutching their pearls.
These weren't necessarily the demands of a diva; they were cannily crafted. Slimane knew that to make an impact, he had to shake up the house of YSL and create controversy, maybe even rile people up — and who gets that angry about what happens in the staid world of luxury fashion anymore? He cultivated a reclusive persona, granting few interviews, and instead let the clothes be the thing people talked about. His approach didn't just work commercially, with the more staid takes on the runway looks, like Perfectos and Chelsea boots, flying off the shelves. It impacted, for better or for worse, the way luxury fashion works.
Critics hated it. Robin Givhan took issue with the extreme skinniness of the cuts, writing: "Slimane's silhouette looks to be so unforgiving that it could be a financial liability to a brand trying to build its clientele." Cathy Horyn has been banned from Slimane's shows ever since a 2004 dust-up, but continued to cover the designer from afar, writing for the New York Times of his debut, "I had the impression from the clothes of someone disconnected from fashion of the past several years. If so, that might be an interesting perspective. But there wasn't something new to learn here."
But Slimane's impact may transcend what he did at Saint Laurent. He actually changed what we expect from lead designers at luxury houses. He made the place profitable by introducing a classic collection of standbys that were produced season in and season out. He didn't cower under the negative press, even tweeting a catty open letter to Horyn over her review.
It's hard to imagine, even four years ago, a brand like Balenciaga hiring the little-known Georgian designer Demna Gvasalia, who's made his name not with cocoon dresses but with equally voluminous sweatshirts and T-shirts with Canal Street–style logos like "Justin 4 Ever," which were immediately embraced by the high-fashion crowd. Now it seems like a clear choice, an obvious move to getting the younger, hipper audiences that luxury brands need to captivate. Just look at how well fellow Angeleno Jeremy Scott — hired at Moschino a year and a half after Hedi took up at Saint Laurent — has done with creating viral, meme-ready fashion the kids are all dying to wear, or at least Instagram. Some critics said Slimane's fashion looked like high-street tat, but Slimane was early to recognize that high fashion no longer trickles down to the masses. If anything, he reveled in that critique — he loved making party clothes for rock royalty, not red-carpet bait.
Speculation is rife about what Slimane might do next — will he stay on the fashion carousel and move to another luxury house? Or will he go back to focusing on his photography? If it's the former, it will be interesting to see what his vision would look like for Dior, which has always loved a star designer but has also always been a traditional house, or at Chanel, where Karl Lagerfeld has set a precedent for cheeky high-low juxtapositions. What's certain is that the Reaganomics model of luxury hasn't been relevant for a long time. People aren't chasing the rabbit at such a frenetic pace anymore, trying to emulate the runways in Paris. They just want cool clothes, and that, after all, is Hedi's specialty.