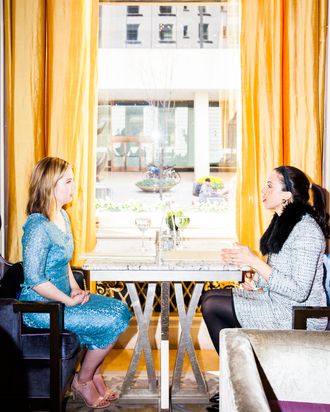 Myka Meier and the author in the Champagne Bar.
Photo: David Williams
Prince Harry is coming. The unmarried royal will touch down in the United States — in the cultural hub of Orlando, Florida, specifically — in three weeks for a charity event, at which point American women will have the best chance of meeting and marrying him once and for all. What will make the average gal stand out from the crowd? Blonde hair, you might be thinking. But no, it's proper etiquette.
That's the pitch, at least, from Beaumont Etiquette School founder Myka Meier, who launched an etiquette class called "Marry Harry" this April. I attended the course at the Plaza Hotel, which is broken down into three sections: dating etiquette, which Myka teaches in one of the Plaza Hotel's private suites (no funny business); dining etiquette, which takes place in the Champagne Bar; and hair etiquette (a blowout), which happens in the Warren Tricomi salon on site. All told, Marry Harry will set you back $1,025, but you can skip the blowout and just get the lessons for the low, low price of $875. (Or $0, in our case.)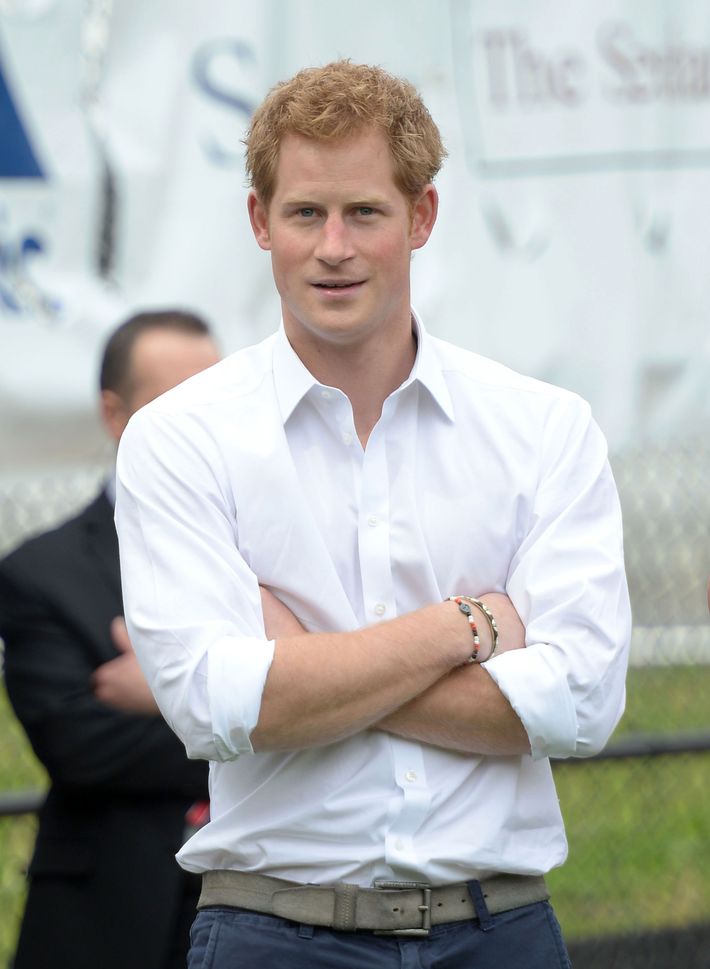 Is Harry worth it? Before I arrived at the Plaza for my training, I knew this much about him: 1) He used to date a woman who was obsessed with scrunchies; 2) he dressed up like a Nazi once; and 3) his full name is actually four first names: Henry Charles Albert David. Myka told me he's also charming, charitable, and the "world's most eligible bachelor." Having read her bio before our lesson — she trained in London under a former member of the Royal Household and attended finishing school in fucking Switzerland — I expected her to be a fussy Brit not unlike reality TV's Supernanny. Instead, she's a kind, charming American who also has a bachelor's degree from the University of Florida.
When I met Myka in the lobby of the Plaza, she was wearing a fur collar, gold earrings shaped like lion heads, and — I'm sure this is not polite to say — a pear-shaped diamond ring the size of my eyeball. As we made our way up to the 11th floor of the hotel for my first lesson, I wondered if, after a few hours, I could learn to be exactly her.
HOW TO SIT LIKE A PRINCESS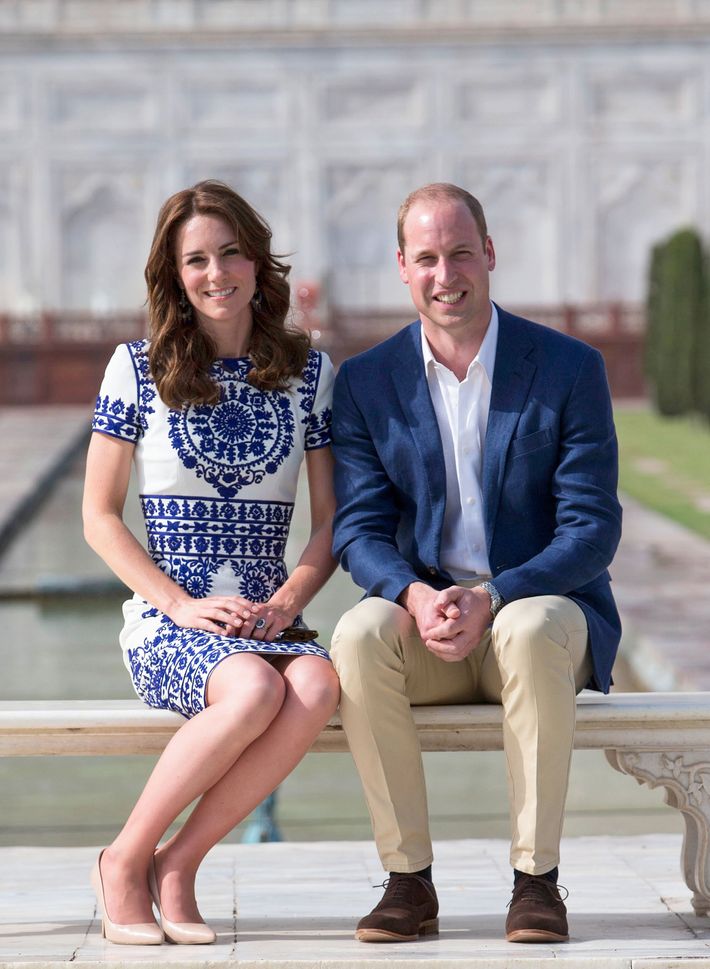 The proper way to sit in a chair, Myka told me, is two inches away from the back of it (imagine there's an egg there) with your knees and ankles together. You can't cross your legs or use armrests, even if you want to cross your legs, or you're sitting in a chair that has armrests. Here's the advanced Kate Middleton maneuver: You can move your feet to the side, if you want. This is called "Duchess Slant." Try it for five minutes; you'll hate it.
HOW TO EAT LIKE A PRINCESS
During our dining class at the Champagne Bar, I ordered a $29 chicken Caesar salad, of which I ate exactly $0.79 worth. I could tell Myka felt bad about this, but she also could not bear to let me eat it the wrong way, which I have been doing my whole life. The proper way to do it is with your fork in your left hand and your knife in your right, index fingers pointed down. Do not take a bite that you can't swallow after chewing twice, and rest after every fourth bite. It is hard to eat like this and also eat.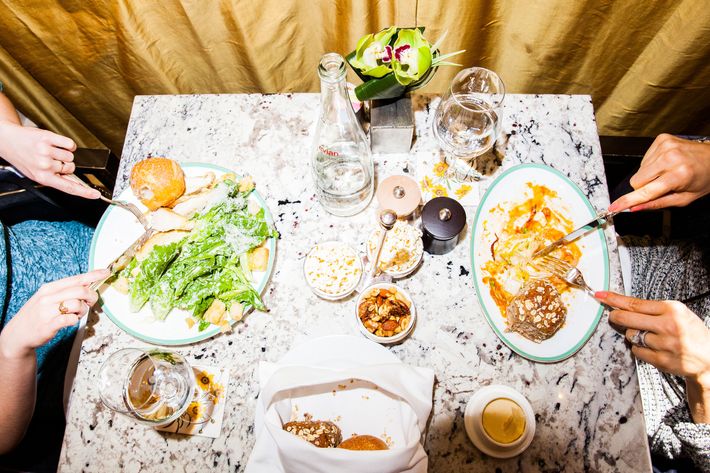 HOW TO WALK LIKE A PRINCESS
The most difficult maneuver Myka taught me was how to walk toward a chair and sit down. You aren't supposed to look at the chair, it turns out. Instead, you should walk purposefully, head up, until your knees brush the seat. Then you spin around, lower yourself, and slide into the Duchess Slant. The first time I attempted this, I banged into the chair and almost fell over. I was like Taylor Swift on the runway of the Victoria's Secret Fashion Show: too confident!
But after this stumble, Myka graciously pressed on, teaching me the proper way to get into a cab. Would you believe me if I told you it was … butt first? She didn't say "butt first," of course, but that's what you do: Open the door, spin around, lower yourself into the seat, and then swing your legs in, knees together. This allows you to keep your vagina to yourself. I can sort of do it now.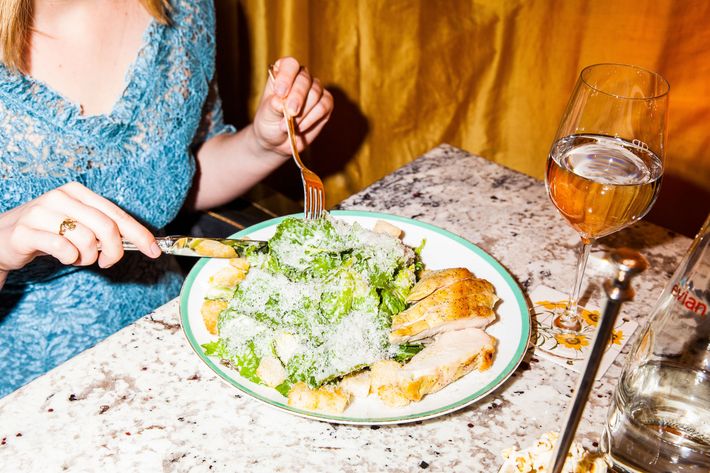 Though I'm glad I've finally learned what to do with my knees and ankles, throughout the course I wondered if Prince Harry even cares whether the women he dates know what to do with their knees and ankles. Is he really looking for the next Kate Middleton?
According to Myka: Yeah, basically. The future Mrs. Henry Charles Albert David Jim Bob might be blonde, but she will also have the skills to run in the same social circles as royals. For example, Harry's last scrunchie-obessed girlfriend, Cressida Bonas — Cress, as Myka calls her (they're familiar) — met Harry because she was working on the same charity board as Harry's cousin Princess Beatrice. I asked Myka if she thought Cress signed up for that charity board so she could marry Harry. She started to say "maybe" and then declined to gossip — very polite.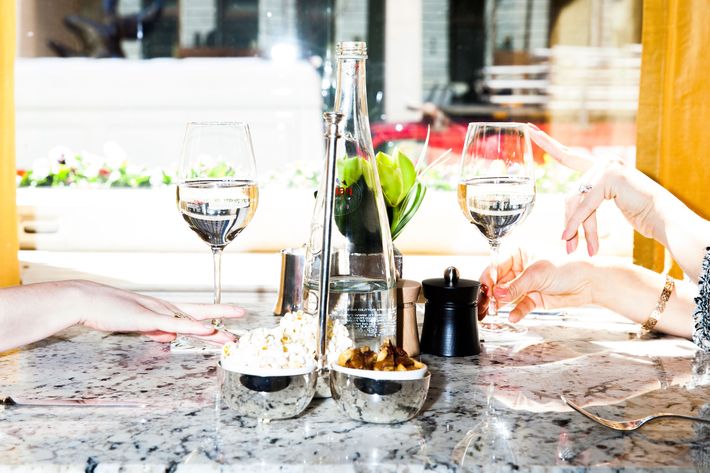 After four hours of princess training, my takeaway was this: Kate Middleton's life is hell. Myka often used her as an example of the perfect, mannered woman, instructing me to do as she does.
It is horrible to do as Kate Middleton does.

Allie wears Goat Belladonna dress, $1,120, Goat