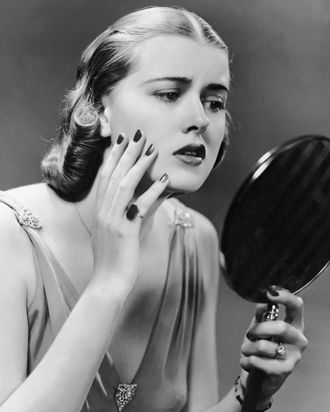 Does this mirror make my pores look big?
Photo: George Marks/(c) George Marks
I first learned about pores in the sixth grade when a girl in my group of friends, snarking on another girl in our math class, said, "Michelle's pores are huge."
"What are pores? How can you tell hers are huge?" I innocently asked. And thus, I had tasted the apple of beauty complexes.
Many years later, as a beauty editor, pores make up a big portion of my job. I can't get away from them. And so I know that products that promise to reduce the size of your pores are lying. Here's why.
Your pores come from Mom and Dad. Like your height and when you lose your virginity, pore size is determined by genetics. "It's a pre-determined development, an ethnic, genetic, phenotype-programmed event," says Dr. Harold Lancer, dermatologist to Victoria Beckham and Oprah. So it wasn't Michelle's fault she allegedly had big pores. She was born that way.
You can't open and close your pores like you would Tinder. Pores aren't like doors; they don't swing open to create a bigger opening or swing close to create a smaller one. As a teen, I remember reading an issue of Seventeen in which some model talked about ending her face-washing routine with cold water to make her pores shrink. I splashed cold water on my face for ten years, creating a temporary visual effect but nothing more. When you go get a facial and the aesthetician says she's steaming your face to open up your pores, this is technically untrue. Steaming your face loosens up the sebum and other gunk that clogs your pores, but it doesn't open them.
Your pore size isn't static. It can change over time due to aging and environmental factors. Smoking is bad for your pore size, in all ways. "Sun exposure also affects your pores because it breaks down collagen and elastin," says Dr. Shereene Idriss at Wexler Dermatology. Rosacea and inflammation can also dilate your pores.
I have big pores. Should I just go and cry now? No. There may not be much you can do to change the actual size of your pores, but you can change the appearance of them. If you look at the fine print of pore-shrinking products, you'll see that they all claim to "refine" or "reduce" the appearance of pores, not the size. Different makeup products can also help reduce the appearance of pores, with products that glide onto the skin and won't settle into pores (Benefit's the Porefessional and Hourglass's Mineral Veil Primer are both popular for this reason).
Dirty pores, oily pores, or pores clogged with gunk also tend to look bigger, so general-skincare advice applies if you want your pores to look as tiny as they can. That includes always removing your makeup before bed, wearing SPF, and making sure your skin stays clean, says Dr. Whitney Bowe. Constantly refreshing new skin will help, too. A good exfoliation sloughs away dead skin, which clears away pore clog.
Dr. Bowe recommends exfoliation products with salicylic acid, which help prevent oil production, to minimize pore size. Dr. Idriss recommends a light glycolic acid peel and a fine dermabrasion scrub. Both doctors also suggest using a retinol, which will help skin turn over faster, since newer skin means smaller, younger, cleaner pores. Try something like Dr. Lancer's the Method Polish Exfoliator, Dr. Brandt's PoreDermabrasion, a physical and salicyclic-acid exfoliator, or Peter Thomas Roth's Glycolic Acid 3 Percent Facial Wash.
There are also in-house dermatology procedures. Think of these as liposuction for slimmer pore size. Dr. Bowe recommends chemical peels and resurfacing lasers. Dr. Idriss recommends Fraxel, which she does using a non-ablative laser that targets fibroblasts, a type of cell that creates collagen. Dr. Lancer prefers radiofrequency. And both Dr. Lancer and Dr. Bowe recommend microneedling.
Wait, but I have no idea what size my pores are. Ignorance is bliss, my friend. Don't eat the apple now! Pretend you never read this article and move on with your life. Pores are tiny. No one can see them on Instagram. Ultimately, the person that cares the most about your pores is you.