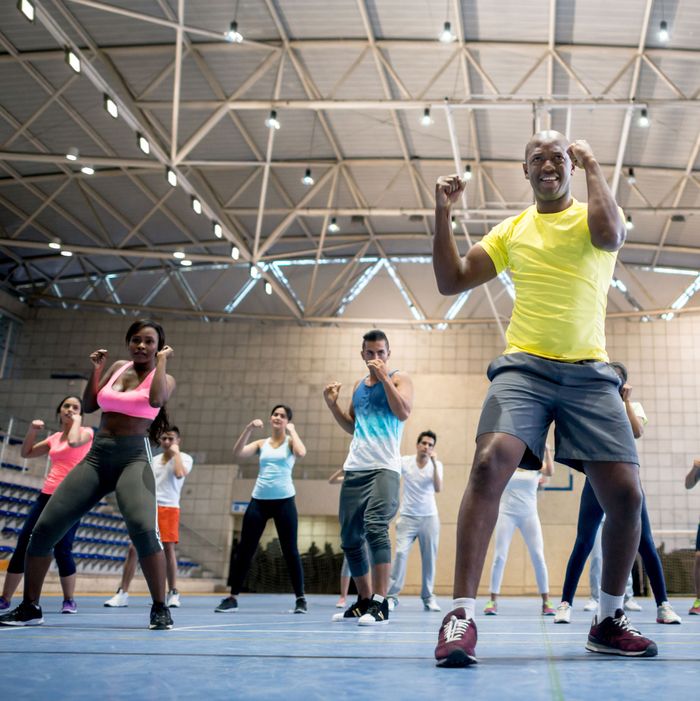 Photo: andresr/Getty Images
There are people who enjoy Zumba, and then there's my mother, a business lady who routinely listens to Kenny G and Sade but taps into her inner Jennifer Lopez a few times a week while at her local Zumba class. She may not know how to categorize the genre of songs played by her instructors ("It's music that doesn't have lyrics, just sounds you move to"), but she loves it so much that she stuck to the Latin-dance cardio routine for years. Zumba's CEO, Alberto Perlman, told me this kind of consistency is more common than not. "People actually smile while they work out," he explained. "It's incredible."
When I learned Perlman was in town to announce Zumba's Shake Shake Shake, the company's first foray into nutrition, I immediately informed my mother. Though she declined to come to New York and sit with the CEO (she's busy, after all), she sent questions. Here's what she asked me to ask Zumba's CEO.
What's your origin story with Zumba?
In 2001, the dot-com boom crashed, and I was out of a job. I was 23 years old, and I felt like my life was over. I went to my parents' house for dinner, and my mom kept talking about her dance fitness class. She said, "I don't understand why this class isn't everywhere. This guy is so amazing. Why don't you meet with him? Maybe you guys can open up a gym or something."
The next day I went to Starbucks to meet him. He had invented this class, and there were lines out the door when he taught it. It was called Rumba, which means "to party" in Spanish. I asked him if he wanted to create some videos and have people do it at home. We shook hands and decided to do something with it. We came up with the word Zumba, and we started selling tapes, VHS. We saw the impact immediately. For some people it helped them get through a divorce, it helped some get through an illness. We created a website called zumbastories.com because we had to tell these stories. There was news last week that some women in Afghanistan get together and do a Zumba class because it feels liberating to them. It's a beautiful thing to see how these women get together all over the world.
Now we have Zumba in 200,000 locations. To give you a comparison, SoulCycle has, like, 40 studios. Starbucks has 40,000 locations. And we have 200,000! There are only 120,000 gyms in the world. We are in almost double the amount of gyms that there are because we can do Zumba classes in schools, churches, hospitals — anywhere with a great room and a sound system.
Why do you think Zumba is so popular for women 30 and older?
I think the biggest reason is that we started 15 years ago, so they grew with us. The thing about Zumba is that no one leaves. People start taking classes, and they stick to it. If you look at our fanbase, our average age is about 33, 34, which is also the average age of people who go to the gym. It's not as old as you think. We have Zumba at every single university; every college has Zumba classes, and it's the main attraction. Take a tour of Boston University and they'll tell you, "And we have a fitness center, with Zumba!"
How many calories do you burn in a Zumba class?
Between 500 and 1,000, depending on who the person is. Caloric burn is relative to body type. If you take someone who is short and not so muscular, that person will burn fewer calories. If you take someone who is tall and muscular, that person will burn more calories. We did a study with the American Council on Exercise, and after boot camp and kettlebells, we were the third-highest caloric-burn fitness program. We were higher than spinning, step aerobics, and regular aerobics. And the reason why people burn more calories in a Zumba class is because people get into it.
For my Zumba classes, I only like the woman on Saturday morning. I don't like the one on Tuesday because of the music she selects: It's boring, and I can't relate. It's not like hard rock … maybe it's electronic music? Anyway, who determines the music played for each class?
We give our instructors music every month. But the great thing about Zumba is we allow everyone to express themselves. At the beginning we were stricter about music, but what we realized is that the beauty of Zumba was the freedom. A lot of programs that prescribe a certain playlist end up falling flat because the instructor doesn't feel it. If you don't feel the song, if you cannot feel the music, you cannot teach the song, you cannot teach the music. That's the beauty of Zumba, but that's also the weird thing about Zumba — you never know.
The Saturday morning woman plays Santana, stuff I can relate to, and her moves are more in sync to the music. The Tuesday woman has room to roam in her class. You can always tell how good a class is based on how packed the class is. Just saying. [Editor's note: This is not a question. My mom just wanted to point this out.]
Out of curiosity, how lucrative is a career as a Zumba instructor? 
There's an instructor in Santa Barbara, California, who's recently gotten a lot of press. She makes $24,000 a month teaching Zumba classes. She has seven classes a week. She pays us $30 a month. She had a very severe case of rheumatoid arthritis four years ago and she said, "I'm not going to take drugs, I'm going to beat it." She started teaching Zumba classes with five people. Now she has 200 to 300 people per class. She rents a basketball court. So she pays, like, $100 to rent that basketball court and charges, like, $10 per person. We give her all of the support for marketing; we give her a website, music, choreography, everything she needs to teach that class.
This interview has been edited and condensed.