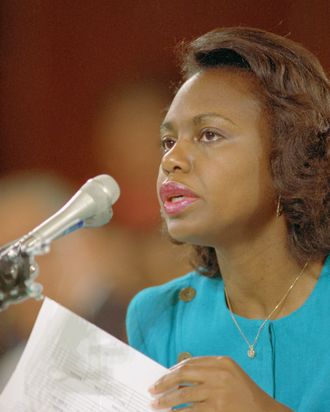 In 1997, six years after Anita Hill sat before a Senate committee and testified that soon-to-be-confirmed Supreme Court judge Clarence Thomas had sexually harassed her, she wrote an autobiography called Speaking Truth to Power. The book is a thorough look at both Hill's life up to that point — from a childhood in Oklahoma to a law degree at Yale to a career at the Department of Education and Equal Employment Opportunity Commission and beyond — and at a hearing that changed the way Americans saw sexual harassment at the workplace.
This weekend HBO premieres Confirmation, a movie about the hearings that stars Kerry Washington as Hill. (They were also the subject of a documentary called Anita three years ago.) Hill's autobiography makes essential companion reading for viewers who want to understand what happened in D.C. that October: While both Confirmation and the doc capture the Senate hearings' drama, they leave out the essential personal nuance behind the story. A woman's decision to come forward about sexual harassment in the workplace is never easy, especially when the alleged harasser is soon to gain a seat on the Supreme Court. Hill's book is one way of understanding another side of the sexual-harassment narrative, a side of the story that the public view rarely allows.
The HBO film is mostly true to history, though compressed and peppered with composite characters from Hill's real life. During Hill's testimony, she was resolute and unemotional, even as members of the Senate Judiciary Committee, notably then-senators Joe Biden and Arlen Specter, asked Hill to repeat specific instances of Thomas's harassment of her. Hill's statement, which she had prepared and read before being questioned further, said much of what one would need to know: "He spoke about acts that he had seen in pornographic films involving such things as women having sex with animals and films involving group sex or rape scenes. He talked about pornographic materials depicting individuals with large penises or breasts involved in various sex acts."
Biden, who is played by Greg Kinnear, later in the hearing asked Hill to "tell the committee what was the most embarrassing of all the incidents that you have alleged?" Hill, dutifully, responded to Biden's request. In the book, Hill describes how, as she sat in front of the committee answering exhaustive questions about sexual harassment, she told herself "Don't move" and resolved to become "as motionless as possible" because she "felt each one of the senators' attempts to humiliate her."
The hearing was a rare intersection of so many of America's biggest flash points: race, gender, power, and politics. The fact that Hill was not just a woman but a black woman made her decision to testify even more incredible. Many incredulously wondered why Hill hadn't brought her accusations forward even sooner, since it had been ten years since she and Thomas had worked together at the Department of Education and EEOC. "Very often the responsibility for ending discriminatory behavior, in whatever form," Hill writes in her memoir, "is placed on the target of the discrimination, rather than the person who carries it out or those in a position of authority to stop it." Hill believed that "without a chance to address publicly the allegations of those who called me a liar, I would spend my entire life addressing them privately."
Hill was questioned repeatedly on the truth and timing of her coming forward; repeatedly, she had to justify herself by explaining that she'd been approached by an investigative committee that was simply doing its job. "For years I had spent considerable time and effort convincing myself that what happened to me no longer mattered," she wrote. "Now it suddenly hit me that the behavior I knew about was no longer simply a personal concern, that the Supreme Court mattered to me as an attorney and as a citizen, and that I had a responsibility to provide the Judiciary Committee with relevant information." It was years after Hill decided to stop working for Thomas at the EEOC that she discovered that he had been part of an EEOC transition team that requested a very peculiar change in policy: one that would reduce the burden of the employer in cases where supervisors harassed their workers. Funny how that works.
Deciding to conceal or to be silent about sexual harassment at work is one of the many ways women seek stability as they pursue their careers. During her ordeal with Thomas at the Department of Education, where he repeatedly asked her out, Hill says she and a person she had confided in even discussed changing her perfume to deflect his attention. And then when Hill decided to move on from her job and went to a civil exit-interview dinner with Thomas, "he made a comment I will always remember. He said that if I ever told anyone about his behavior toward me, it would ruin his career."
It didn't, and it so rarely does. Thomas was confirmed to the Supreme Court by a vote of 52 to 48 barely a week after Hill's hearing, the smallest margin in a entire century. "Well, that's that," Hill remembers saying when she heard the news, as her mother tried to console her by saying that she'd done the right thing. The right thing for Hill was also the hardest thing, and choosing to fight back against powerful forces was never going to be easy. As Hill notes in her autobiography, a 1992 Columbia Journalism Review study showed that "the press coverage was biased in favor of Thomas, with his proponents quoted three times more often than those who favored a hearing on my claim." Hill was never destined to come out the champion of this fight. As she said herself of Thomas's nomination, "I was disappointed but not surprised."
Hill herself has gone on to a long career as a professor of law (she now teaches at Brandeis University). But her name is forever linked to the most public case of workplace sexual harassment the country had seen. When Hill's statement went public before the hearing, Hill says she was subject to "an answering machine full of messages, some worse than I had anticipated–death threats and threats of rape or sodomy. People felt free to leave the most cruel and revolting messages imaginable." After the hearing, on the other hand, she got letters. Hundreds and hundreds of letters.
"People of all ages, races, and backgrounds wrote," she says in the book. "Some letters were from old friends who wanted to reconnect after years of no communication, but most were from strangers expressing their concern about what they had witnessed … Many had experienced sexual harassment firsthand. Many more related to sexual harassment as a violation of basic human dignity."
At the end of Speaking Truth to Power, Hill does two notable things. First, she ponders the question that many people have asked her since: Would she do it again?
"I would again answer truthfully when asked. I would pursue the matter once I filed my statement. I would testify as frankly and clearly as possible when questioned. I would do it again, but I could only do it because of the great tangible and intangible support I had throughout."
The second is a thoughtful, constructive postmortem note titled "An Open Letter to the 1991 Senate Judiciary Committee." In it, Hill plainly goes through her own hearing and the behaviors of the Senate committee step by step, assessing where and how things could have been handled better, assessments she was qualified to make as a lawyer herself.
"The reality of sexual harassment is that most women do say no to harassment but too often are stuck with the interpretation of her harasser that her no meant yes, or at least, 'maybe,'" Hill explained in her open letter. "Harassment is abuse of power manifested in the form of sexual coercion." Step by step, Hill goes through the ways in which the Senate Judiciary Committee perpetuated myths about sexual harassment to suggest that Hill herself was a promiscuous liar.
"In keeping with your responsibility to represent all of your constituency in the best interest of the country, you owe to each of us the assurance that you did indeed learn from the experience of 1991 and the promise that you will fulfill your future obligations in a more sensitive and enlightened manner."
The letter is signed "yours very truly, Anita F. Hill."