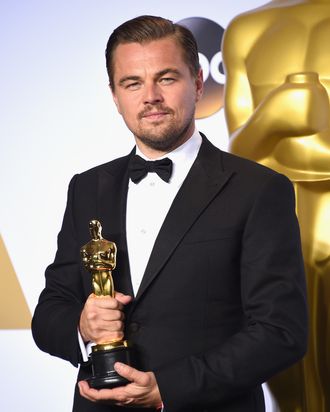 Indonesia's Most Wanted.
Photo: Jason Merritt/Getty Images
Now that he has that Academy Award, Leo can stop twisting himself in knots on film and devote himself to his other true love, saving the planet. Last week he put down his vape and skipped hitting the club with J.Lo to go to Indonesia.
He posted a few Instagrams from his visit to the Mount Leuser National Park in Tamiang, Indonesia, noting in the caption of one shot that "the expansion of Palm Oil plantations is fragmenting the #forest and cutting off key elephant migratory corridors, making it more difficult for elephant families to find adequate sources of food and water."
He also posed with critically endangered new Pussy Posse member, the Sumatran orangutan, writing, "as the forest of the #Indonesian #LeuserEcosystem continues to be cleared to meet demand for Palm Oil, the critically endangered Sumatran #orangutan is being pushed to the brink of extinction."
The Indonesian government was less than thrilled by DiCaprio's shots at the palm oil industry, which is a huge economic driver for the country. A spokesman for the Directorate General for Immigration implied to the AP that they might ban the one-time Oscar winner, saying, "We can blacklist him from returning to Indonesia at any time, if he keeps posting incitement or provocative statements in his social media." This might make the Indonesian government the first people to take social media activism seriously — or they're just miffed because they'd planned to send him a palm oil Oscar.