Inside a Pesce-Heavy Park Avenue Apartment
Flash back to the 1980s, when a rarely played ivory piano sat in Ruth Lande Shuman's beige living room. The palette was as soothing as cream of wheat. "I found it was too mild," Shuman says. She started adding photographs and fabrics here and there — and then, she says, "I met Gaetano." She's referring to Gaetano Pesce, the Italian architect and industrial designer known for creating household objects out of resin and furniture from rags and moving blankets. In 1989, only a few years before famously making over the advertising offices of Chiat/Day, he turned his attention to Shuman's apartment, posing a simple question: "Why doesn't your apartment look like you?"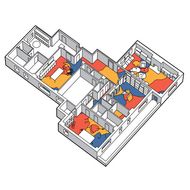 Shuman's appetite for color was unleashed, and in 1996 she founded Publicolor, a nonprofit that uses design to empower public-school students by, among other things, painting drab classrooms bright, happy colors. Nowhere is it more evident just how important the psychological impact of color is than in this Park Avenue wonderland.
"An apartment is a portrait of a person," Pesce says. Then, after a long pause, he adds, "Color is energy. Color can give us a better life."
*This article appears in the April 18, 2016 issue of New York Magazine.