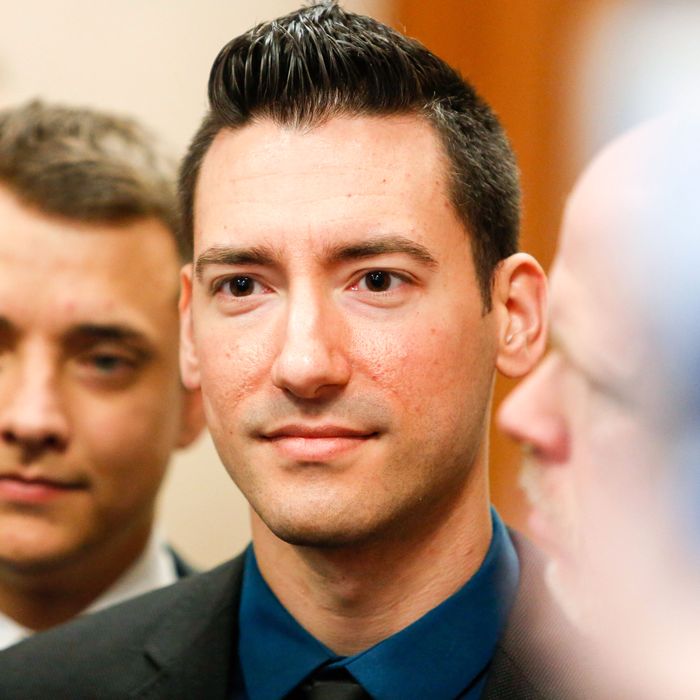 David Daleiden, center.
Photo: Eric Kayne/Getty Images
It seems that perennial liar and Center for Medical Progress founder David Daleiden might be under investigation in his home state of California for producing highly edited hidden-camera videos that accused Planned Parenthood of selling fetal tissue. (It bears repeating that they did no such thing, per closed investigations in two dozen states.)
You'll remember that, in January, a Houston grand jury thoroughly owned Daleiden and fellow anti-abortion activist Sandra Merritt by indicting them on charges of tampering with a governmental record, using falsified driver's licenses, and attempting to purchase human organs (Daleiden posed as sales rep for a fetal-tissue-procurement company).
The Los Angeles Times reports that agents from state attorney general Kamala Harris's office searched Daleiden's apartment yesterday and seized a laptop and hard drives containing video files, as well as "personal information." Planned Parenthood filed a lawsuit in San Francisco against the Center for Medical Progress for invasion of privacy and illegal secret recording. Hidden camera videos are against the law in California.
A spokeswoman for the AG said they do not comment on ongoing cases so it's unclear whether yesterday's search was related to the civil suit or a separate criminal investigation.