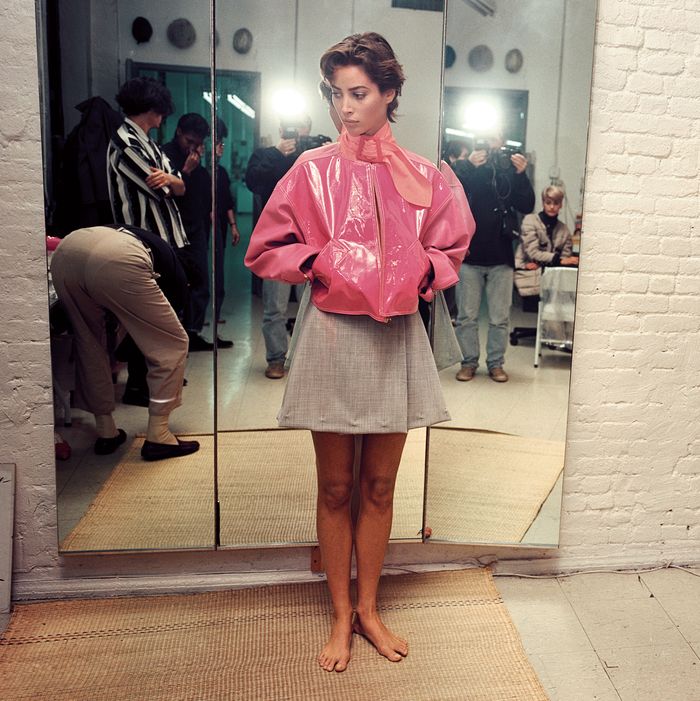 Christy Turlington in Isaac Mizrahi's studio.
Photo: Nick Waplington
"This is way before I was rich," Isaac Mizrahi says, his finger running over a vitrine of photos from his late-'80s and early-'90s beginnings. The images, the work of photographer Nick Waplington, show serene moments that are the polar opposite of the flashy scenes in Unzipped. They're set mostly in the converted factory building on Wooster Street that served as the designer's studio, back when Soho was gritty. "I feel like I can't go down there anymore," Mizrahi says wistfully. "A great part of my youth was spent down there, and I can't bring myself to acknowledge it. I like to think of it as a place that still exists in that way, and it really doesn't."
Mizrahi and Waplington were introduced by Richard Avedon, who was shooting a lot of Mizrahi's collections in his advertising work at the time. ("I was like the only person whose clothes he could use [in his Revlon ads] because I didn't have a fragrance contract.") When Mizrahi began to think about doing his own ad campaigns, Mizrahi says Avedon told him, "You can't afford to work with me. But he said there's this photographer called Nick Waplington and he doesn't do fashion at all. He hates fashion."
Waplington may not have been very interested in fashion — he still professes not to be — but his outsider status made him ignore the fashion photography status quo. In these images, published in his new book The Isaac Mizrahi Pictures, supermodels look like girls next door and the only drama comes from the poppy sorbet colors the designer was using at the time. The photographer was able to assume fly-on-the-wall status quickly; recalls Mizrahi, "He was a complete ghost. Like, I never noticed him there ever." Adds Waplington, "I'm very good at making people relax when I photograph them. I'm kind of invisible."
In the shots, a selection of which are also included in Mizrahi's retrospective at the Jewish Museum, Naomi Campbell, Christy Turlington, Veronica Webb, and Linda Evangelista all make appearances, as do a very young Kimora Lee Simmons and Anh Duong. "For the first number of years, I paid them in clothes, I didn't pay them in money. They just liked my clothes a lot and we liked each other a lot," Mizrahi recalls. He even influenced their beauty looks: When he and Kevyn Aucoin cooked up a skinny eyebrow look for one show, Cindy Crawford came in, "and he plucked all of her eyebrows off. And she looked gorgeous, right? But she was not so happy, and her agent wasn't so happy. And literally this close to suing Kevin. But then three months later everybody could only have skinny eyebrows, and she actually wrote Kevin and said, darling, you were right, I was wrong, thank you so much." (The tides have since turned: "That was probably three eyebrow cycles ago.")
What also comes across in these images is the sheer amount of work that went on, whether it's endless fittings and readjustments or the designer taking his own Polaroids of each look. When Mizrahi looks at them now, "what comes back to me is how incredibly focused I was, to the exclusion of every single other thing in my life. Now I'm married and have two dogs. A big life. Loads of responsibilities and relationships. In those days I had absolutely nothing. I had an apartment that I barely lived in. I would sketch things, make things, cook things, write things, go to sleep." Waplington, too, was living a 24/7 20-something lifestyle: "I was in my early 20s and I could quite happily work all day and go out all night. And I always had a camera with me." In the book, his pictures from nightclubs — he favored places like Limelight, the Sound Factory, and Jackie 60 — are intermingled with the Mizrahi project, giving a full sense of his experiences during that era.
The photographer doesn't recall the fashion very sharply, but he remembers the personalities. "What was funny to me was Isaac, you know? With the singing and the music. The Doris Day stuff. And then Sandra Bernhard would be there," flirting with the models, and Naomi Campbell would be there, chatting with him about British TV. Pre-Snapchat, pre-Instagram, there was nothing to focus on but the task at hand.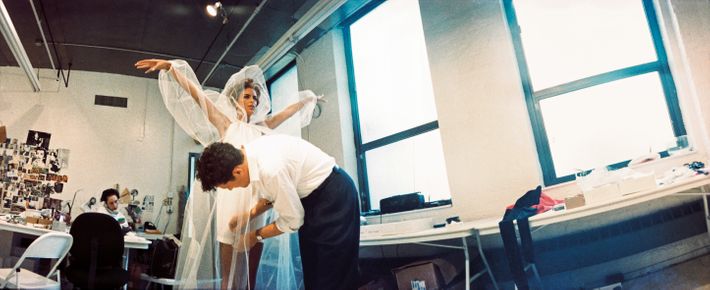 Isaac Mizrahi in his studio.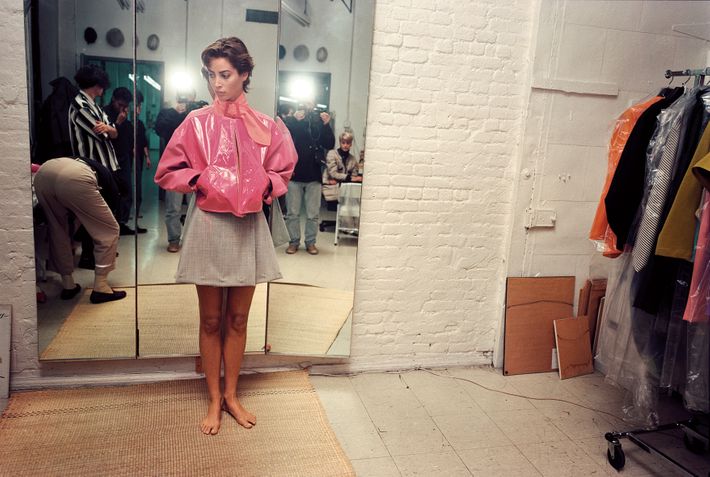 Christy Turlington in Mizrahi's studio.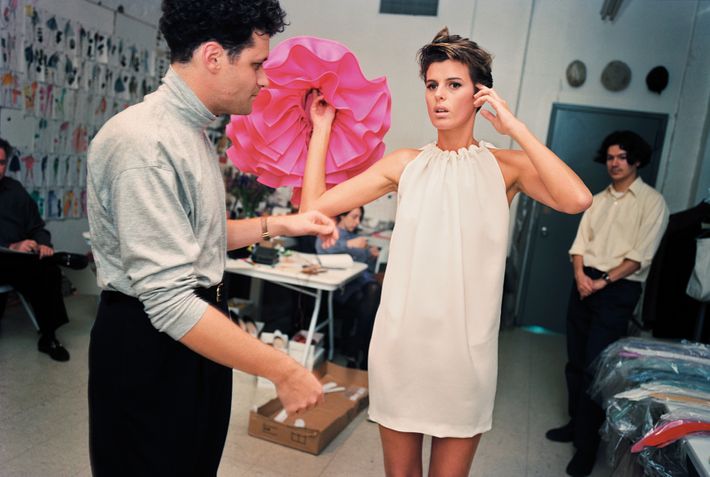 Stella Tennant in Mizrahi's studio.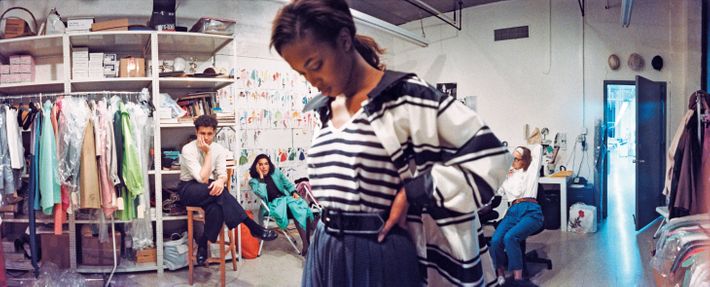 Naomi Campbell in Mizrahi's studio.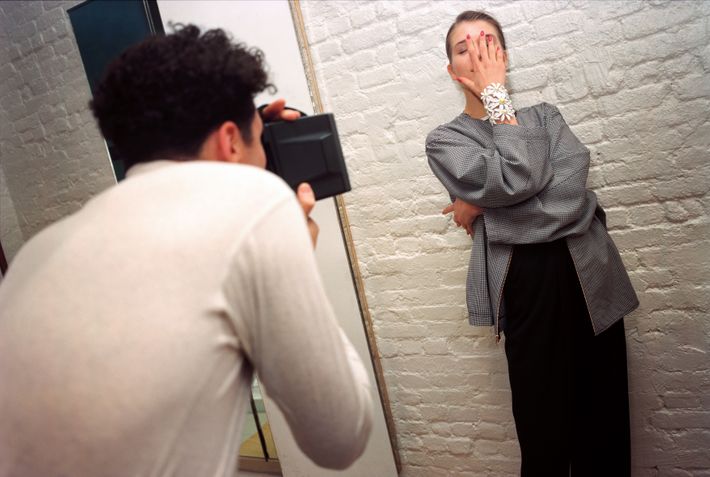 Mizrahi photographing a model in his studio.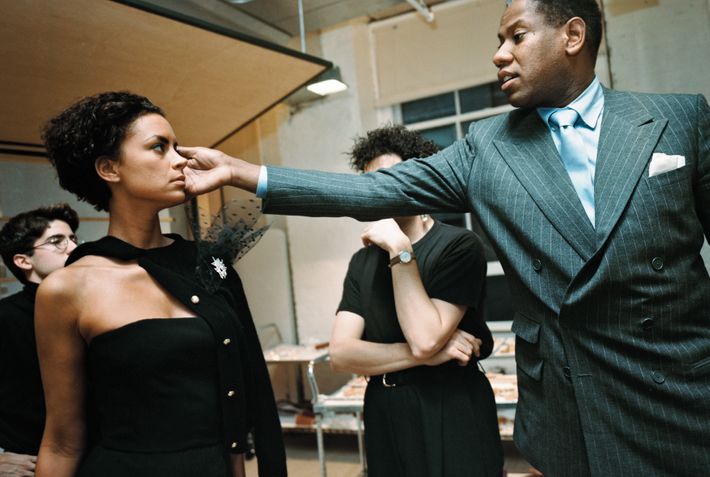 Andre Leon Talley in Mizrahi's studio.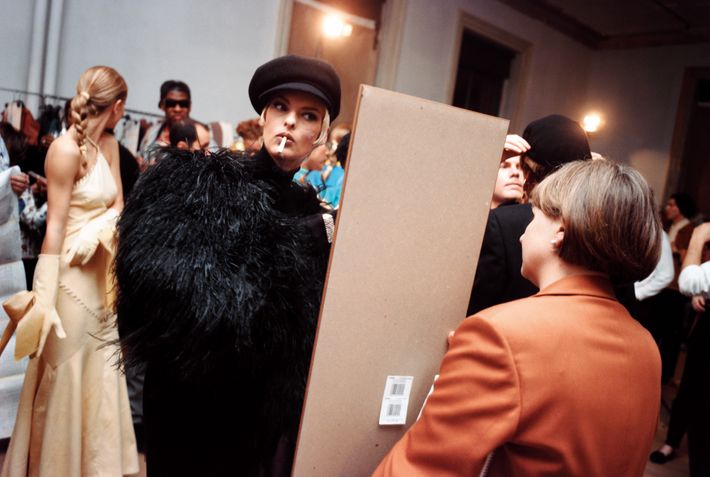 Linda Evangelista before a Mizrahi show.