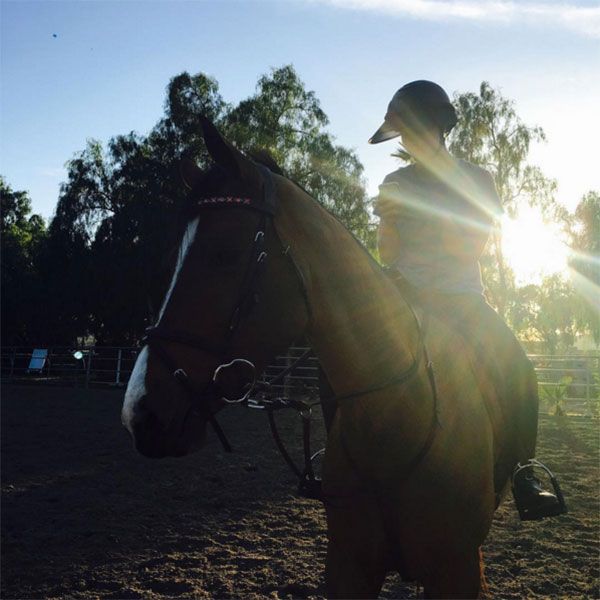 Horses!
Photo: normancook/Instagram
"Is Kaley Cuoco dating again?" This is the question on most people's minds, as evidenced by the fact that People magazine asked it this morning. Yes, we must know: Is Kaley Cuoco dating (again)?  According to some recent Instagram posts (of horses), yes.
Cuoco, who stars on the popular CBS program The Big Bang Theory (it's like Friends), filed for divorce from her husband of 21 months, the tennis player Ryan Sweeting, in September. Tabloid sources revealed then that Cuoco was "extremely focused" on horses in the aftermath. She posted photos of horses on Instagram. She rode horses in competitions, even. And now, it appears, she's met a horseman. Today People reports that Cuoco "has been posting quite a few pictures on Instagram recently that seem to be hinting she might have a new man in her life: Karl Cook, a professional equestrian."
People is not lying. Here's one of the fledgling couple celebrating at a horse show:
And here's one from a visit to a gun range, in which Cook can be seen licking Cuoco's face (much like a horse):
It's always a plus when your partner shares your interests, like riding horses, or having the initials K.C., or being in families. People notes that in addition to being a professional equestrian, Cook is the professional son of Scott Cook, the billionaire founder of Intuit.
It's not clear how long Cuoco and Cook have been doing horse things together, but the actress hinted at her new-found happiness in an interview with Ellen Degeneres in February. "You know, it's been rough, but things are going good," she said. "I'm much, much better now. I'm in a much better place than I was."
A horse place.