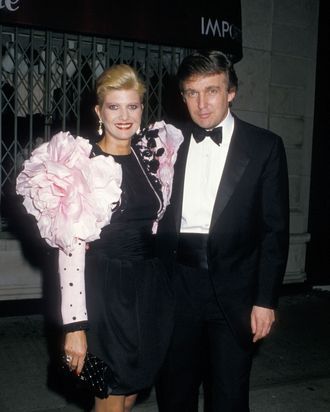 Ivana and Donald Trump
Photo: Ron Galella/Getty Images
The Post caught up with Ivana Trump this weekend to ask her all the burning questions Americans have about her ex-husband, such as: Is he a feminist? "I don't think he's feminist," she responded. "He loves women. But not a feminist."
But two days after the interview, her reps called the Post to clarify:
 Ivana's reps called The Post two days after the interview to clarify that Donald was a feminist. Then they called to say he wasn't. An hour later, they said he was.
This adds to the Trump family's storied history of backtracking, whether it be about abortion laws or immigration.
In the interview, Ivana also said she's close with her ex-husband, and even advises him on his campaign. She tells him to "be more calm," and claims she coined the slogan, "You think it, I say it."
Ivana admitted to the Post it's her fault Donald didn't run for the presidency sooner, because of their scandalous divorce. (He very publicly cheated on her with his soon-to-be second wife, Marla Maples.)
"Probably five years before our divorce, Reagan or somebody brought him a letter and said, 'You should run for president,'" she said.
Ivana also took the time to comment on other topics.

On immigration:
"I have nothing against Mexicans, but if they [come] here — like this 19-year-old, she's pregnant, she crossed over a wall … She gives the birth in American hospital, which is for free. The child becomes American automatically. She brings the whole family, she doesn't pay the taxes, she doesn't have a job, she gets the housing, she gets the food stamps. Who's paying? You and me.

As long as you come here legally and get a proper job … we need immigrants. Who's going to vacuum our living rooms and clean up after us? Americans don't like to do that."
On whether she likes politics:
"I don't like politics."
On bruising Donald's ego:
After Ivana and Don began dating, he took her on a skiing trip to Aspen. Ivana, who was an alternate on the 1972 Czechoslovakian Olympic ski team, pretended she didn't know how to ski, because Donald didn't and she didn't want to threaten his masculinity.
"[Once] he was getting good. So he said, 'Ivana, let's go ski.' I asked the instructor to put the ski boots on me like a beginner. Donald was like, 'OK, darling, you can do it!' I took off and he got so angry. He said, 'I will never [ski] again for anybody! Even Ivana!' So I play for his ego."
On what TV shows she watched with Donald:
Dallas and Dynasty.
On what type of First Lady Melania will be:
"OK."
On how many boyfriends she currently has:
Three.
On Donald's peen:
"If there was a problem there, Donald would not have five kids."
Well, that settles that.