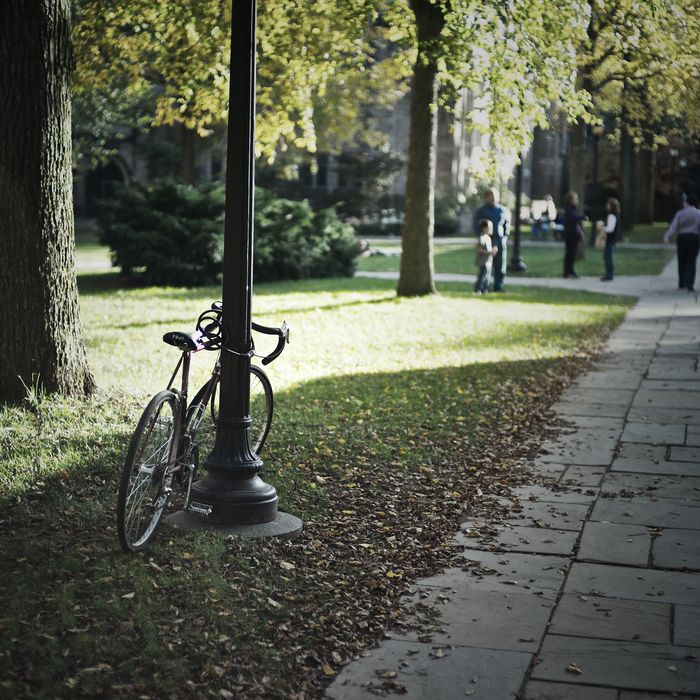 Photo: picturegarden/Getty Images
New York's Sex Diaries series asks anonymous city dwellers to record a week in their sex lives — with comic, tragic, often sexy, and always revealing results. This week, a museum staffer with a boyfriend who doesn't orgasm easily: 23, grad student, Harlem.
DAY ONE

8:15 a.m. Wake up, get ready. Today I get my first taste of the Princeton campus. It's the first day of the last of my grad-school visits, and I can't wait to be done. I applied to graduate schools to pursue a Ph.D. in history, and I've been gone almost every day this month visiting programs where I've been accepted.
9 a.m. Breakfast and orientation. Thirty young adults all aspiring to academia.
12 p.m. Breakfast in Woodrow Wilson's old house. Had no idea he was such a racist and also New Jersey never abolished slavery??? WTF???
4:30 p.m. An event with wine and cheese. The lubrication helps with the lofty academic talk and with impostor syndrome. Meet more faculty members. Loving this place so much rn.

6 p.m. Dinner and MORE ALCOHOL. Sit with a bunch of history-of-science students. They're cool and all have "partners." I have to adjust to this weird thing in academia where you automatically call your SO "partner."
9 p.m. Wasted. TB (touch base — I love adopting acronyms but then forget no one else knows what they mean) with my bae. His name is Les; he's 29 and an art director at a start-up. Tell him I'm vibing on Princeton (over NYU, UPenn, and UChicago). Later find out I made some blackout comments about our desperate need to lose weight. He's gained 20 pounds of  "love weight"; I can't buckle down on my SoulCycle. I just wanna be undergrad skinny again. *sigh*
12 a.m. In bed after bumping shoulders/hands one too many times with a Harvard grad named Brad (ha!). He's so my type: tall, skinny, white, dude, preferably a little Aryan looking, glasses optional though frequently included. Les looks totally different, which I'm into — he's half-black with green/blue eyes.
DAY TWO
8:30 a.m. Wake up hung-over AF. All that free wine did me no good. Guzzle water in hopes of making it to breakfast at nine.
8:40 a.m. Puke up said water. Now I'm ready to rally!
10:15 a.m. Graduate-housing tour. Apparently Princeton thinks it's okay to house actual adults in ten-foot-by-ten-foot dungeons with floor bathrooms and kitchens???? I HAVE MY BA. Need to consider outside options stat.
12 p.m. Art museum on Princeton's campus with Brad. He's wearing a Flying Lotus shirt 'cause he just ~~**~*geTs It*~*~. But really, so smart and SO CUTE. I tell him how I listened to Flying Lotus while smoking DMT, and he seems freaked out but entertained.
1 p.m. Brad sneaks out from lunch, no good-bye. I sigh.
4 p.m. FINALLY GET TO MY PROFESSOR MEETINGS. I'm basically the last one here and so ready to go home. I don't think I can answer the question "What are you interested in?" literally even one more time.
6 p.m. FINALLY FREE!! So broke. Only have enough money between cash/cards to piece together a $17 train ticket, with $4 to live on for the rest of the week. Such is my life.
8:30 p.m. Bae meets me at the train station. He really is the sweetest man on this entire planet. It constantly blows my mind.
10:30 p.m. Sex!!! Yes!!! We have amazing sex. But Les hasn't cum in almost a month, and it is chipping away at my self-esteem despite my best efforts. He thinks he might be depressed … ever since we started dating it's taken him foreverrrrrrrr to cum. I've heard it could be related to the fact that he's uncircumcised? But I've never looked into that. He asks to tie me up and fuck me from behind. Hella down. He got me mattress restraints for my birthday that don't get as much use as they should. Two wrists in one restraint and we go to town. It feels really good when he fucks me from behind, but, TBH, and this is embarrassingly corny, I love to see his face/look him in the eyes. I guess I, like, really love this dude. Still in disbelief about that, because I was the girl with a different guy every night last year. I felt it was necessary to get a nice sampling of the men of New York before I potentially moved out of the city. Now moving is a reality, and I'm tied down. Funny how that goes.
11:30 p.m. Pass out from exhaustion (usually how it goes). No cum.
DAY THREE

7:30 a.m. I work at a museum in New York. I'm antsy for a change of pace. I recently asked to move departments to research with our fiercely chic head curator (three-spare-pairs-of-Louboutins-under-her-desk chic). I plan to meet with her soon to discuss details. My adviser at Princeton also offered me a cushy research gig for the summer. This means I MIGHT FINALLY NOT BE DIRT-BROKE!!!
8 a.m. No Vyvanse today 'cause I'll be in meetings all day. I got an Rx in college and used it religiously for consistent all-nighters. Now I'm a bit addicted to the intensity it gives me at work, though it's tough fighting the lack of appetite and inability to fall asleep. I already have so many sleep issues …
3 p.m. I'm off! Too broke to do anything, so I go home and smoke the last of my shake. Feels so great to smoke after the days off in Princeton.
10:30 p.m. Get in bed. Supposed to ride at 6:15 a.m. at Soul tomorrow …
DAY FOUR
5:30 a.m. Alarm goes off. No way I can go to Soul this early. Fall back asleep.
7:30 a.m. Wake up for work. Gonna Vyvanse today 'cause it's a nine-to-five and I don't have many meetings. Uninterrupted work time is gold to me.
5 p.m. Work sucks.
8:30 p.m. I'm a half-hour late to babysitting. I inherited this Thursday night babysitting gig from my roommate, who got it from her roommate. The parents have date night every Thursday and just need a body in the house while the kids sleep and they are away. They come back around 11:30, and it's 60 dollars. Every. Little. Bit. Counts. The dad also owns a club in New York that is lit AF, and I have permanent list access.
11:30 p.m. They come home. I wanna see bae. I run over to his place — though there's no such thing as running, because I babysit in the Lower East Side and he lives in Astoria. Moving to Princeton feels like it'll be basically the same commute from my current place in Harlem. (I know that's an exaggeration. I'm a Sagittarius; I can't help it.)
12:30 a.m. Watch Fargo. The other night Hulu had us randomly shuffled to an episode of the TV adaptation and realized I needed to see that Coen classic for the first time. I LIVE for the Coens.
2:30 a.m. Sex, no cum, pass out. He hasn't eaten me out the past few times before having sex, which is SUPER unusual for him. I used to always complain about how he loved doing it and did it every time, because I'm not the biggest fan. For my birthday, he made a customized playlist on Ableton and ate me out an entire 45-minute set while I listened, blindfolded. Now I'm missing it. I need to be more grateful. He's actually the best.
DAY FIVE
9:20 a.m. Slip into my desk quietly and work away.
1:30 p.m. Lunch with a co-worker I haven't gone out with in a while. I vent about transitioning out of the museum and my general anxieties about living in the liminal phase that is "pre-grad school."
5 p.m. TGIF! It's my first weekend in the city this month (see constant traveling above), and I'm so excited!!
6 p.m. Meet a co-worker at a Soul downtown. We try to get in my FAVORITE instructor Sunny's class. They only have one bike left. I concede it to my co-worker. I wanna keep my roll on, but he deserves it more. He wants to become an instructor and has to ride, like, eight times a day. But God I love Sunny and her Friday night ride. There's literally no better ticket in town. Luckily, this studio is right by Les's office. I go scoop him up.
7 p.m. Back to my apartment. Quick change for date night. I got a dress from Asos for $10 at Goodwill, and it's lit. Put on a dark-red vamp lip, too, so he can't kiss me and dies of anticipation. I'm super horny and excited. Tonight is the night we cum. I can feel it (though I cum most nights with Les, TBH. I'm a rare easy cummer from what I can tell). We go to a fave Mexican spot in Chelsea, and we look hot.
8:30 p.m. Eating dinner. He asks if I want to move in with him for the summer (since I'll be moving to dirty Jersey in the fall, this is basically our last chance to live together). Can't believe he's taking this initiative!! He's literally the sweetest. I love him so much. But can I live that far? And he has two dude roommates that are quite … quirky. He says it'd be good for our relationship, and I totally agree. Would love to go to bed with him every night and seize the last of our time together. Summer presents the perfect test drive, so to speak. I can't believe I'm even contemplating this. I was so anti relationships all of last year, and now I'm sitting here contemplating shacking up.
11:30 p.m. OMG, so wet with anticipation. He suggests we use the LELO. He got me a vibrator that has 24-karat gold on it (also a bday gift. He really went insane and gave me the best birthday humanly possible). He fucks me with the LELO inside, AND HE CUMS. I knew it was gonna be a good night. It was a perfect night.
DAY SIX
2:30 a.m. I wake up gasping for air. Nose is completely congested. Grab Mucinex and toss and turn for the next eight hours.
1 p.m. Fridge repairman arrives. I feel like shit. Sudden onslaught of death cold. Les takes the lead and handles interacting with the repairmen. He's an angel.
3 p.m. Back in bed. We decide to head to Les's in Astoria. Tomorrow is Easter, and we're eating at his parents' house in Harlem (he happened to grow up six blocks from my current apartment, such a small world!), but his kitchen is better for cooking.
5:30 p.m. You're never really too sick for sex, right?
DAY SEVEN
10 a.m. My nighttime Mucinex did a pretty solid job. Feeling infinitely better.
1 p.m. Head to bae's parents'. We decide to make chicken wings and biscuits from scratch. They turn out delicious, but the biscuits are a bit dry.
4:30 p.m. Dinner with the fam. He has three sisters and a mom and a dad. As an adopted only child to a single mother, it's overwhelming. But I find biological families fascinating. It never gets old to me that siblings turn out looking similar. Crazy how nature works!
9 p.m. Back home. Feeling combative. I ask Les how he feels about open relationships. (Oh, Brad … ) He responds, "I think it's all a matter of ego. I love you but know I can't provide everything for you, and that's just the truth." Did I just get an okay to do an open relationship??? Could I even pretend to keep my jealousy under wraps? I somehow think it'd be different with him. Everything is. I want to physically fuck other dudes every once in a while, but there is literally not a man on this planet that could hold a candle to the love, support, intelligence, artistic abilities, etc., of Les. It truly would be "just sex." Or is that how monogamy works? Vague desires you're never supposed to realize? That just seems regressive?
11 p.m. He blindfolds me, and we fuck for an hour. I cum hard. Feels so good. So exhausted. We fall asleep with all of the lights on and my laundry still in the dryer.
Want to submit a sex diary? Email sexdiaries@nymag.com and tell us a little about yourself.