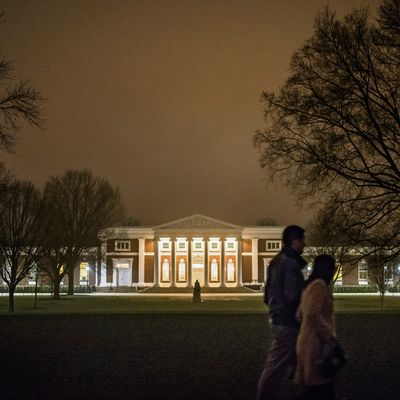 UVA
Photo: James Lawler Duggan/The Washington Post via Getty Images
Despite her lawyers' request to cancel her deposition, a judge has ruled on Monday that "Jackie" must testify in the Rolling Stone–UVA lawsuit. The legal team representing "Jackie" had argued that testifying would "re-traumatize" her, causing "psychological harm" and "irreparable consequences."
"Jackie," who was the primary subject of a now widely discredited Rolling Stone article about sexual assault at UVA, now finds herself at the center of an ongoing legal battle between the magazine and the university's associate dean of students, Nicole Eramo.
Eramo is suing Rolling Stone for $7.85 million for defamation. She argues that the Rolling Stone piece "deeply damaged [her] both personally and professionally."
"Jackie" will be testifying this coming Thursday; however, Judge Glen E. Conrad ruled that transcripts of the deposition will be sealed.