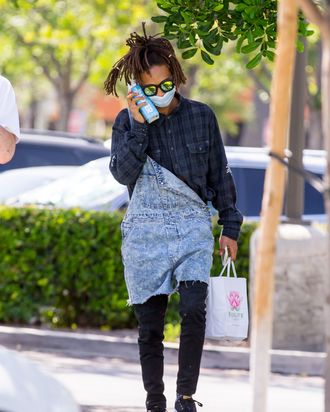 Jaden Smith.
Photo: VIPix / Splash News
Jaden Smith, persistently well-hydrated teen, was seen outside a California juice shop in trend-defying ripped overalls and a surgical mask. Outside the smoothie-superfood store SunLife Organics in Calabasas on Sunday, he wore cutoff overalls with a plaid shirt and mirrored Perverse Sunglasses, while using a water bottle as a cell phone. This boxed water has been with him at Yeezy Season 3, on dates, everywhere.
He reportedly met up with ex-girlfriend Kylie Jenner. She also drank Just Water but did not talk to it.