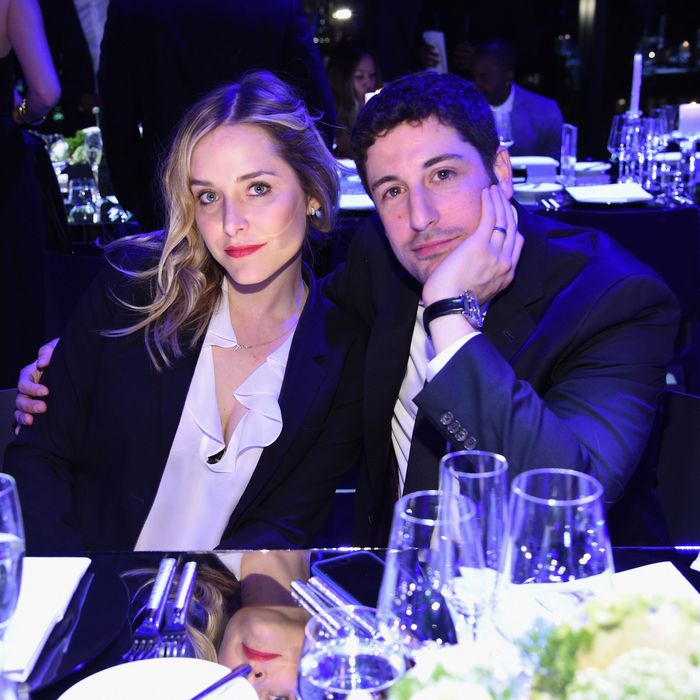 Jenny Mollen and Jason Biggs.
Photo: Dimitrios Kambouris/Getty Images
Like most of us, Orange Is the New Black's Jason Biggs and his actress-writer wife, Jenny Mollen (a onetime Bachelor in Paradise host), are not invited to the Met Gala next week. How should an excluded celebrity couple (or an average human) sneak in? At the Tribeca Film Festival, this couple gave the Cut one idea: Sew yourself onto a guest's extravagant gown. Just pick someone! Stitch yourself onto Beyoncé's dress, latch onto Anna Wintour's clutch, or snuggle up with André Leon Talley as the editor's robe, and you're in. Read on for their implausible heist.
Have you two ever gone to the Met Gala?
Jason: No!
Jenny: No. Can you get us in?
I can't. But if you went, what would you wear? Or what would you want to wear?
Jason: I would like to be an accessory to someone else's dress.
Jenny: I want to be sewed onto Beyoncé somehow. [Laughs.]
Jason: Yes! Baby, yes. Dude, yes. I want to be Anna Wintour's bag somehow. Like, I'll be her clutch.
Why hers?
Jason: What do you mean, why hers? Anna Wintour! What do you mean? It's Anna fucking Wintour.
Jenny, why would you want to be sewn onto Beyoncé?
Jenny: I just feel like, first of all, she wins the ball every year, so I want to be on the winning team. And I feel like every year Beyoncé takes it home.
Jason: Also, she probably has room for you.
Jenny: Yeah, she's probably doing some sort of, you know, installation piece.
Last year she was almost naked. She wasn't wearing much.
Jenny: That's true, she didn't. But, you know, maybe I could have been, like, part of the draping, or the …
Jason: Maybe you could have been all she wore.
Jenny: Yeah. This year I'll be all she wears.
Jason: You know, you just kind of start at her boobs, just kind of drape around, and finish between her legs.
***
One day later, at the Tribeca Film Festival's For the Love of Cinema Dinner …
You spoke to one of my colleagues last night and told him that if you went to the Met Gala, you'd want to go as Anna Wintour's clutch, and you'd want to go draped across Beyoncé, sewn on. Tell us more. What kind of clutch would you be?
Jenny: I feel like he'd be like an Edie Parker.
Jason: Maybe, but who would I be, baby? Can Edie Parker have, like, a mouth?
Jenny: It's kind of like bowling-ball material, and then it has some sort of word across it.
I'd want to go, like, on top of Gaga's hat if I was going to sneak into the Met Ball. Because then you'd also have a better view, perched atop.
Jason: True, but she's short.
Jenny: I feel like a Cher headpiece would be good.
Jason: Yeah, that's good. But André Leon Talley, just sort of sitting down chilling with some sort of boa on him.
You could practically live under one of his robelike things.
Jenny: You could be in a duvet blanket on top of him, I think. Smuggled in.
Jason: I could be snuggled in, next to André.
Reported from the Tribeca Film Festival by Bennett Marcus at the premiere of The First Monday in May, and by Renata Sellitti, at IWC Schaffhausen's For the Love of Cinema Dinner.