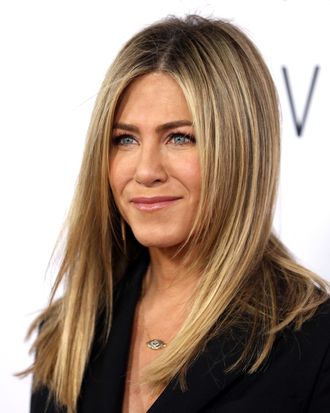 Photo: JB Lacroix/Getty Images
Eating: It's a necessary part of life, even for celebrities. How do celebs do it? Or, more specifically, what exactly does Mother's Day star Jennifer Aniston eat each day?
I'm seeing some conflicting reports.
Two weeks ago, Jen divulged the details of her daily diet to Elle, which seemed believable enough. But today, People published a similar diet interview with the star, and her answers … her answers are not the same. Let's compare these alleged "food diaries."
BREAKFAST
To Elle, Jen claimed to eat the following: "When I wake up, I have warm lemon water and then I have a shake or avocado and eggs, which is one of my favorites. I sprinkle a little coconut oil on that. Sometimes, I'll have a puffed millet cereal with a banana or I'll do oatmeal with an egg white whipped in at the end." 
That's a lot of crazy stuff, and Jen mentioned almost none of it to People:
"The star's breakfast is usually a protein shake. 'I'll put in bananas, cherries, blackberries, a greens powder, a collagen peptide, a little cacao powder, chocolate stevia drop and chocolate almond milk,' she says. 'You can see I like chocolate-flavored. I don't like protein taste.'"
I can't see what Jennifer Aniston likes at all. Lemon water? Avocado? Puffed millet? Egg oatmeal? Chocolate shake? Or none of those things and she is just saying made up words???
LUNCH
Jen told Elle she eats "some form of vegetables or salad with protein — pretty basic."
Pretty basic. That's not how I would describe what Jen told People she eats for lunch every day:
A lunch favorite is seared ahi tuna with cucumber and lentil salad. 'Maybe olive oil,' she adds. 'I use Bragg's amino acids to replace soy sauce.'"
She's not even sure if she eats olive oil. Why is Jen telling magazines what she eats every day if she doesn't even know?
SNACKS
What snack does Jen eat every day? According to Elle, it's "an apple and almond butter." But according to People, it's "a cheese stick or a cup of soup."
What the fuck.
DINNER
Jen told Elle that her dinner is the "same as lunch." But to People she claimed to eat a dinner that was not the same as lunch!!! ("Roasted chicken with spiraled zucchini and pesto sauce.")
In conclusion, women lie.