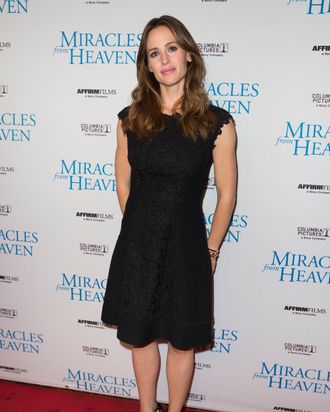 Jennifer Garner.
Photo: Cooper Neill/Getty Images
Surprise, surprise, casting women in Hollywood really is as messed up as everyone thinks it is. This weekend at the Tribeca Film Festival, Chris Rock and  J.J. Abrams sat down for a wide-ranging discussion that touched on casting, specifically Abrams's choice of Jennifer Garner for Alias.
Abrams revealed that there was some hesitation from a network exec when he pushed to cast Garner as super-spy Sydney Bristow. "She [Garner] had actually been on Felicity and my wife had said, "You've got to write something for her, she's got such a spark,'" Abrams shared. "And I wrote Alias thinking about her but I didn't quite know. Then I finished it and she came in and was amazing. And I remember someone at the network was like … 'Is she hot enough?'"
It's astounding enough that someone would look at Jennifer Garner and think, "Meh?," but Chris Rock responded with something even more surprising: "I once … I'm not going to say the woman's name but an executive at a film company that probably weighs, I don't know, 165, 180 pounds was like, 'Hmm … Kerry Washington's getting a little big.' Like what are you talking about?"
If people are criticizing Jennifer Garner and Kerry Washington's looks, there's really no hope for the rest of us.