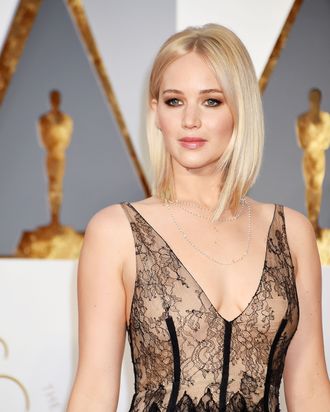 Photo: Jeff Kravitz/Getty Images
The famous Hollywood actress Jennifer Lawrence, who is just like you in every way that really matters, vomits when she drinks too much. She revealed this relatable tidbit about herself in an interview with Harper's Bazaar, out today:
I don't really stay out late. I'm kind of a bummer. I'm a nana. It's hard to get me out, and when I do go out I don't really stay out late. If I do stay out late and I'm partying hard, I will throw up. I don't have the tolerance to black out; I just start puking.
Lucky for her, she has friends to comfort her in these moments:
Ask Emma Stone. It was the night we saw Adele in L.A. She just started rubbing my back. She was really sweet. I was like, "Get out of here. It's so gross."
Yeah, ask Emma Stone!
Lawrence noted that she has also vomited in the presence of Woody Harrelson — something you can easily imagine doing yourself, I bet.