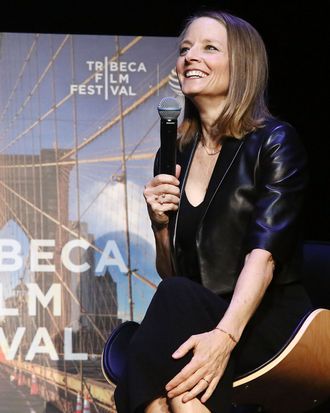 Jodie Foster.
Photo: Astrid Stawiarz/2016 Getty Images
Jodie Foster, hero, actor, and director, was interviewed by fellow hero and director Julie Taymor for a talk at the Tribeca Film Festival on Wednesday, and they unleashed some truth about women in Hollywood. "I think [people] still see women as a risk, and I'm not really sure why," Foster said.
She added that although there are a lot of women directing TV in Europe, there still aren't a lot of female film directors because executives still don't trust women to direct movies. She's also noticed that people don't know how to treat her as a woman leader when they see that she doesn't fit into a neat stereotype.
"Sometimes it's hard for people to understand how to treat me as a leader because they're sometimes waiting for me to punch them in the face, which I'm not going to do, or sometimes they're waiting for me to say, 'Oh, gee, you sound so smart, why don't I just do it your way?' I'm neither one nor the other," she said, "and sometimes it's confusing for people."
The good news? This has been the best year for female directors in Tribeca history.