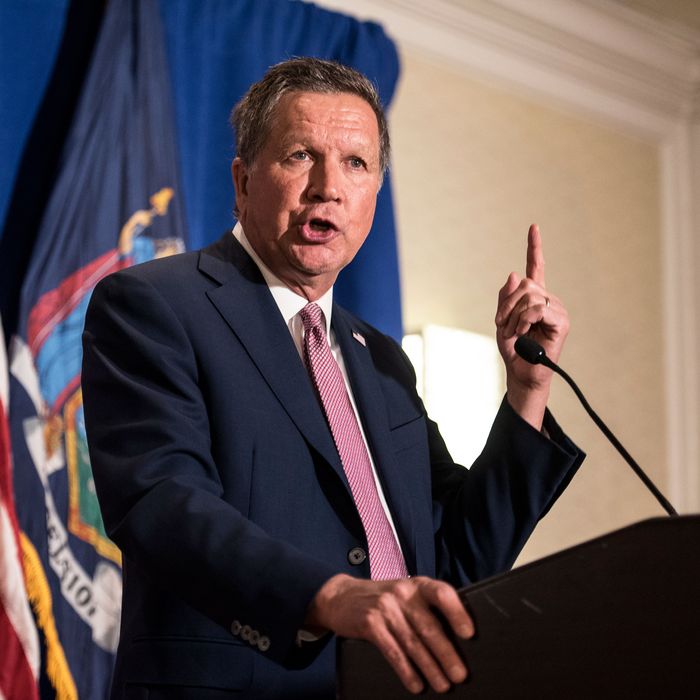 Ohio governor John Kasich.
Photo: Andrew Renneisen/Getty Images
At a town hall in Watertown, New York, on Friday, John Kasich — he in pursuit of the "women in kitchens" vote — told a college student exactly how women can avoid being raped: Stay at home.
A freshman St. Lawrence University student had asked the Republican presidential candidate how, as president, he would help her feel safer regarding rape, harassment, and sexual violence. The Ohio governor, who's still struggling in the polls, discussed the importance of confidential reporting and rape-kit access, referring to female students as "coeds" while using Ohio's higher-education policies as a model for change.
"You ought to absolutely know that if something happens to you along the lines of sexual harassment or whatever … you have a place to go where there is a confidential reporting, where there is an ability for you to access a rape kit, where that is kept confidential, but where it gives you the opportunity to be able to pursue justice, after you have had some time to reflect on it all," he said. "I have two 16-year-old daughters, and I don't even like to think about it."
The student agreed: "It's sad, but it's something that I have to worry about," she said.
"I'd also give you one bit of advice," Kasich added. "Don't go to parties where there's a lot of alcohol." Everyone clapped.
A spokeswoman for the National Sexual Violence Resource Center told ABC News that while Kasich made some good points, he focused too much on the criminal-justice approach to sexual assault: "He went to the same place that most of America goes to."