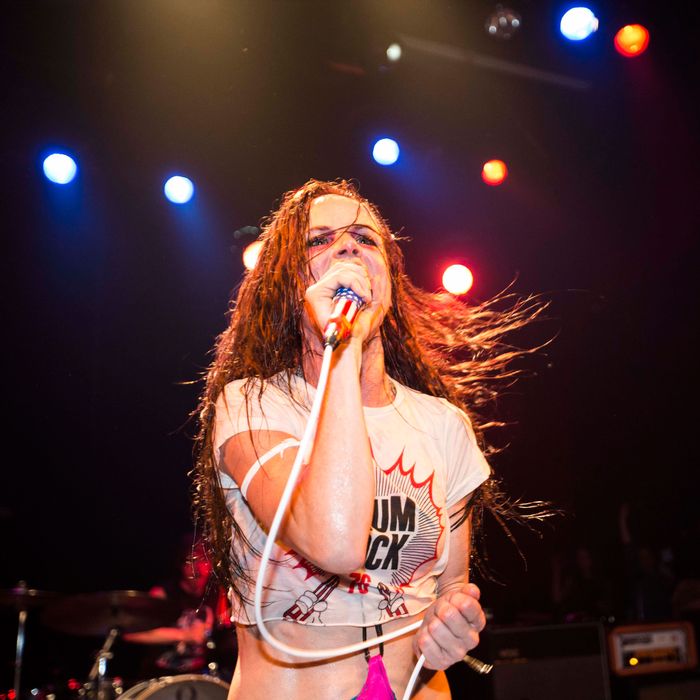 Juliette Lewis in Hard Lovin' Woman
Photo: Red Bull TV
Just before she turned 30, Juliette Lewis became a rock star. Having made her mark in the film world (including an Oscar nomination for 1991's Cape Fear), Lewis decided to take a career U-turn. Since then, Lewis has reinvented herself, first as the front woman of indie-rock band Juliette and the Licks, and then as a solo artist (she still acts, too). So don't try to write her off as one of those half-assed actor-musicians. As she says in her new Tribeca documentary short, Hard Lovin' Woman: "For those who don't know, I was always going to make music. I was always a musician who then started acting first." Her career change was out of "necessity … a great hunger and love for music. I figured it was better late than never."
Hard Lovin' Woman — which screens tonight at the Tribeca Film Festival and is available to stream on Red Bull TV beginning April 23 — is a love letter to Lewis's music career, and a tribute to the DGAF attitude, ferocious stage presence, and intense creative energy that have been Lewis's calling cards since her days as a Hollywood "It" girl in the early '90s.
You started a new career just before turning 30, which I'm sure a lot of people think about but is very hard to do. What made you take the plunge?
What sustains me is this creative pulse, and this fearlessness that I try to exemplify or live by. But it doesn't mean I am not mired down in fear, because I am, and it can be suffocating. Whenever that happens, I try to do the opposite and dive fully in to what terrifies me.
The idea of pulling the plug on a career that's the only thing I've known was exciting, liberating, and yet terrifying. So I did it in a really organic way: I said it starts with the songs. I worked with one of my longest collaborators, Todd Morse, and we wrote a handful of songs. I worked with Linda Perry and I started developing a set. So that became the foundation. But the idea of jumping in full-on often comes through loss, when you're at your wit's end. I had just gone through a divorce; I wasn't having job opportunities that satisfied me. I don't want that to be confused as being the motivation— but sometimes losses can be your biggest liberation, because now there's only one way to go, and that's up.
Why did you decide to make this film now?
I had quite an eventful year last year, reforming my band and figuring out what I love about music. I had had an eight-year break — or actually five years, because I did go solo — and also there was the passing of my dad (actor Geoffrey Lewis), which is still huge and transformative. Years ago when I was touring relentlessly with the Licks, I always had people filming, and someday I wanted to do a love letter to our audiences. And I wanted to show how magical it was on the road. So I had a lot of footage.
And then once [director] Mike Rapaport was involved it was a done deal, because I knew it was in the hands of someone I trusted. He's a friend of 20 years and he knows me so well. And I'm a fan of his as a filmmaker and storyteller. So I allowed him to film me and come into my life for my past six months, gave him all the footage I had, and I'm just blown away by how cinematic it is, and how it's filled with humor. Because he knows who I am and how daffy I can be. I like that that's in there.
In the documentary, you talk about rock and roll as a reaction to the more sterile culture of film. Can you elaborate on that feeling?
For me, [rock] is really visceral. It's about shedding artifice or airs, whereas acting is about the interpretation of a story, a plot, a character. With music, I don't work for anybody. It's my love child. When I'm promoting a film I want to make other people happy, I want to make my bosses happy — I want to do right by the film, and that can be a complex situation.
Both film and music are known as particularly challenging environments for women. Is that something you have experienced?
It is funny that in our culture, in 2016, that you have some themes that are really inhibitive toward a strong spirit of women. And it can come in advertising and it can come in unequal pay, and it can come in our political climate of politicians making choices for women's bodies. So it is wild that these are very alive and well.
I've had all kind of language used to describe me, stuff that's overly sexualizing. That is a force in my stage presence — but much the same as it is for Robert Plant or Iggy pop.
There's a double standard.
Right, you don't find the language that men are "only" that. The sexual dynamic is just one energy of an entire creative force, and it's not something I've ever leaned on.
This interview has been edited and condensed.